Sweet, tangy, spicy and wonderfully layered, Leek Mango Chutney is a delightful alternative to heavier chutneys and sauces. It pairs beautifully with any kind of white fish and despite the odd pairing, it's a total showstopper served alongside Jamaican Jerk Chicken (for total perfection, add cooked plantains as a side). This recipe is a great choice anytime you have extra leeks and/or mangoes you can make chutney and vacuum seal and freeze it or give to your friends and family. It also makes for a really interesting filler for puff pastry, so if you want something a bit daring and different, add a few more raisins and you'll have some truly unique and tasty sweet/savory turnovers with this chutney.
Ingredients:
4-6 leeks (depending on size)
4 fresh mangoes, cubed
3 tablespoons vegetable oil
1 cup small dice red bell pepper
1 ounce minced fresh ginger
2 ounces golden raisins, packed firmly
2 ounces cashews, toasted and chopped
1/4 cup brown sugar
4 ounces unsweetened pineapple juice
1.5 ounces cider vinegar
1 1/2 teaspoons yellow curry powder
1 bay leaf
salt (to taste)
white pepper (to taste)
Mise en place ingredients. Leeks should be diced. You can do this easily by halving lengthwise then halving each half again to create quarters, then dicing much as you would an onion.

Heat vegetable oil and chili flakes on medium high heat. Heat until just before smoking stirring frequently to flavor the oil and prevent the chili from scorching. Add leeks. Cover and reduce to medium. Cook for 20 minutes or until leeks look nearly translucent.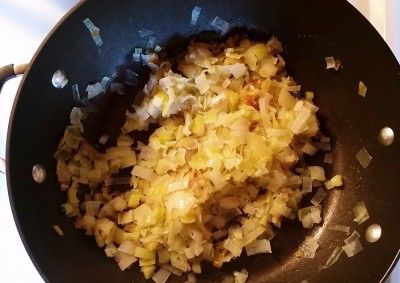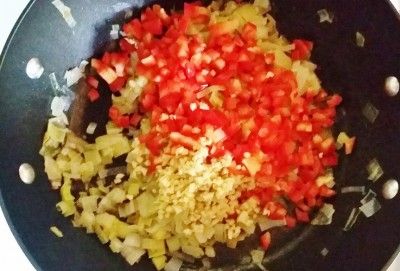 Add ginger and bell pepper. Stir well. Cover and cook for 5 minutes. At this time, combine brown sugar, pineapple juice, curry powder to allow curry to bloom.
Add pineapple juice and vinegar mixture. Add bay leaf. Add chili pepper if desired (just a dash or two). Stir well. Cover. Reduce heat to low. Cook for 30 minutes.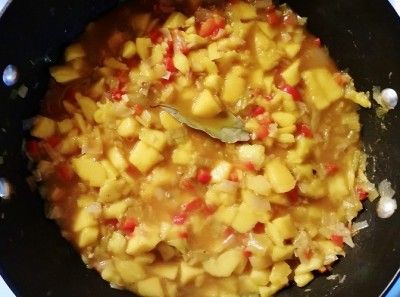 Toast cashews. Once chutney has cooked for 30 minutes, remove from heat. Stir in toasted cashews and yellow raisins. Add salt and yellow raisins. Add salt and white pepper to taste and if desired. I found my chutney was perfect as-is, so didn't feel the need for the salt and pepper.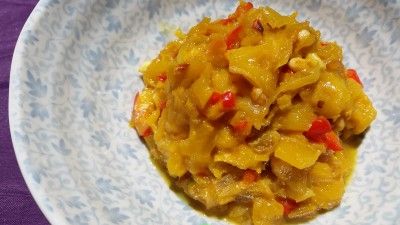 Serve with anything that calls for an Indian, Southeast Asian, or even Carribean flair!
Well I hope you've enjoyed our 3 part series: For the Love of Leeks. I know we sure have! If you have any fabulous leek recipes you'd like to share, send me your recipe and pics and, if selected, I'll post your recipe along with a nice write up about you, your cooking and whatever else you'd like to share with our readership!
Until next time…
Happy Eating!