Leeks oh leeks! They're that strange cousin to the ubiquitous domestic onion and close relatives to elephant garlic and an Egyptian sister called kurrat, a flowering leek of sorts with a nearly identical flavor. More importantly, leeks are really, really delicious. They have a sweet, mild onion-like flavor with none of the harshness of regular onions. Plus, leeks are easy on the digestive system and breath, making them the most sociable member of the alium (onion) family.
If you want to try leeks for the first time, don't fret over some super-fancy recipe. These guys are seriously low-maintenance. In fact, the less you mess with them, the better they'll be. The basic rule with leeks is go low and slow and they'll taste great every single time.
Try this super simple leek recipe when you want a vegetable to go alongside fish, chicken or other vegetables.
Rustic Italian Leeks 
6 leeks halved lengthwise, washed
3 tablespoons olive oil
2-3 grape or cherry tomatoes or 1 small regular tomato, halved
water as needed
salt
Trim, wash, and slice leeks as shown.


Add 2 tablespoons olive oil to a saute pan with a tight fitting lid. Turn heat to medium high. Add sliced leeks face down into the pan. Allow the leeks to cook uncovered for about 5-7 minutes or until they begin to caramelize.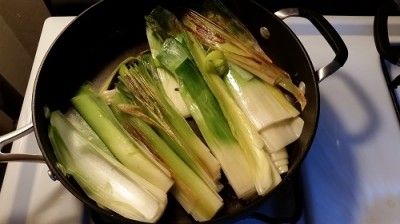 You may need to add a few tablespoons of water to the pan or lower the temp slightly to prevent them from scorching. Once the face down side of the leeks have browned, turn them over.
Add tomatoes, one more tablespoon olive oil and five tablespoons water.
Cover and reduce heat to low. Cook for approximately 25-30 minutes. Your nose will probably tell you the moment these are done.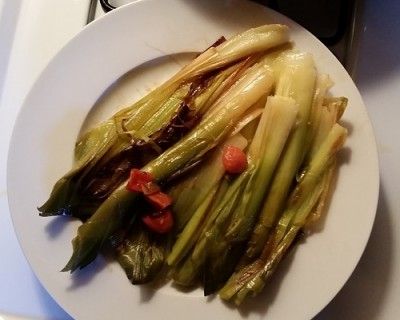 There's more great leek love on the way! Next up…