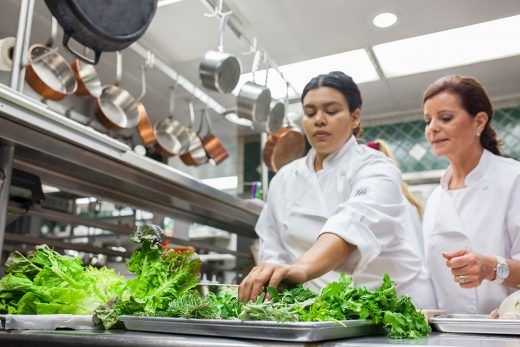 Have you been considering attending culinary school but find relocating to another area less than ideal? Are you concerned about the amount of debt you stand to incur at an expensive culinary arts school? If these are the questions on your mind, then CASA might very well be your answer to getting to the future you want.
The Chef Apprentice School of the Arts makes it possible to get quality training in the culinary arts without the added stress and financial burden of relocation. Our commonsense approach matches you with an experienced chef or restaurant professional (for Restaurateur apprentices) inside a high-end restaurant or hotel, located just miles from where you live or work.
Because you're apprenticing within a professional environment close to home, you have the opportunity to forge great connections with the very same people who are actively working in food in your area. If you were to relocate and study at a conventional school, the connections you'd make would mostly be with other students. Since the teachers at these schools are often full-time teachers and not working professionals, even if you do distinguish yourself from the crowd, the chances of that connection paying off with actual paid work can be little to none. When you're training from within the industry, you're interacting with the pros on a day-to-day basis. They can see your passion, your work ethic and your talent.
If you're up to speed with what's going on in food, you're no newbie to localism. In recent years, chefs across the nation have started looking at the historic dishes and foods native to their areas. From Austin to Atlanta to New York, there's a full-fledged renaissance in embracing the foods of yesteryear and bringing them into the brilliant present. New Southern cuisine is bringing back classic dishes with a new twist and reviving grains such as legumes. Digging in and exploring regional cuisines and food histories are the newest preoccupations in our collective culinary consciousness. You can opt to learn via textbooks and lectures, or you can get direct training on the foundations of the culinary arts as an apprentice to a professional chef and see how tradition and practice come together in one of the most dynamic, thriving industries on the planet.
Are you ready to get no-nonsense, real-world training in the culinary arts in the hustle and bustle environment of a real kitchen? If you think you can handle the heat, we want to hear from you!