Want to appear effortlessly fabulous for your guests? Well get yourself some high-quality puff pastry dough (I use Dufour) and you can whip these babies up in a cinch. This recipe is seriously easy and seriously delicious. I mean these guys are good. So good in fact that I recommend making more than you think you'll need since everyone comes back for seconds. Also, they're best served warm, so alas, they're not a make ahead kind of appetizer but you can pre-make the filling, just bring it to room temperature prior to scooping it onto the pastry dough so that all the ingredients can reach a nice temperature when baked.
Recipe: Savory Leek  and Tomato Turnovers
Yield: One dozen
Ingredients:
4 leeks
14 grape or cherry tomatoes, halved
2 tablespoons olive oil
2.5 ounces crumbled feta cheese (lowfat or regular is fine)
pastry dough, ready to roll as according to package instructions
1 egg (for egg wash)
water
salt to taste (if desired)
*Parchment paper to line baking sheets
Instructions:
Wash and chop leeks into segments of about 3/4 of an inch (as shown).



In a frying pan, stove-top wok or saute pan with a lid, heat 2 tablespoons olive oil and bring to medium high heat. Add chopped leeks. Allow to cook uncovered for about 3-5 minutes or until the edges of the leeks are browned. Add one tablespoon water and stir. Cover with lid and reduce temperature to low. Cook for twenty minutes. Add halved tomatoes and stir. Cook for an additional 10 minutes.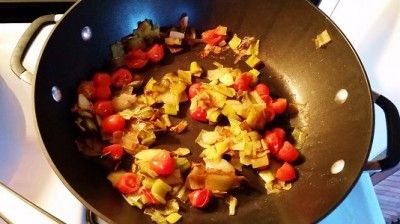 Remove from heat and bring to room temperature.
Preheat oven to 400 °F (204.44 ° C).
Add feta cheese and one tablespoon olive oil. Salt to taste.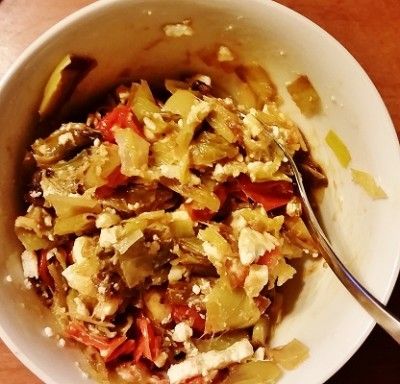 Prepare pastry dough, rolling it out on lightly floured surface. Section into squares. Don't worry about being too perfect here, just move quickly so the dough doesn't get too warm which makes it sticky and hard too handle (conversely, dough that is too cold is prone to crack). Ideal size are 4 x 4 inch squares but work with what you got.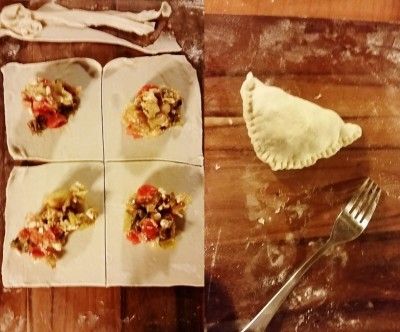 Add approximately two tablespoons filling to each segment of dough.
Fold over, seal and crimp the edges with a fork.
Brush with egg wash and using a fork, poke a few holes in the tops to allow steam to escape. Poke 3-4 times (I could have poked mine more).
Bake for approximately 20 minutes. I baked mine for exactly 19 minutes which yielded amazing color and perfect texture.
Serve warm, allowing to cool for about 3 minutes prior to serving. Room temperature is okay too but warm is best!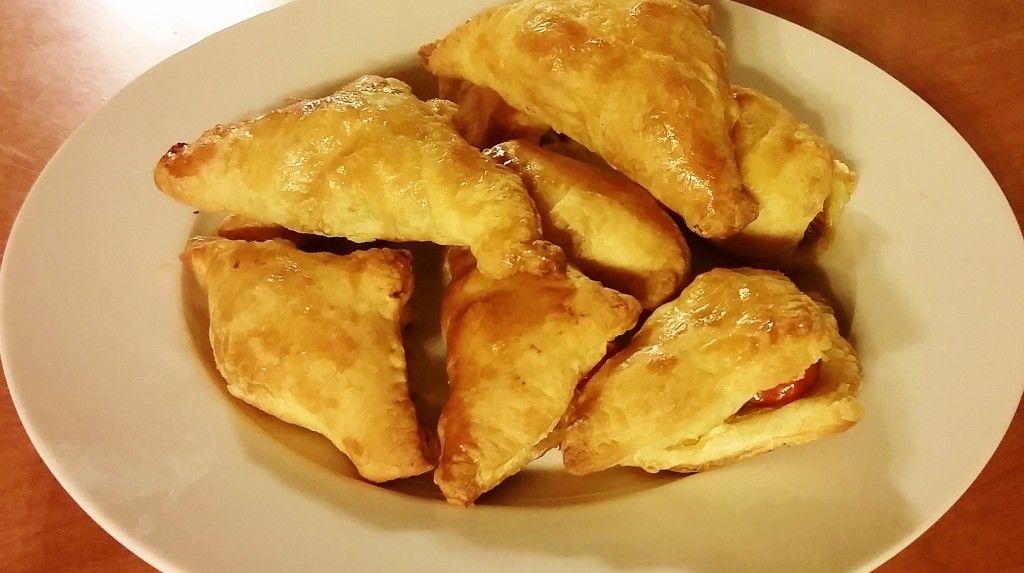 Enjoy!
Until next time…
Happy Eating!