So long summer!
I'm one of those whose hankerings aren't exactly seasonal. I crave peaches in the dead of winter, spring onions in the fall, go figure. If however, I know what's about to go out of season, I relish the moments. So here's a little heads-up on what's perfectly in season now so canners, get to canning, chefs get to cooking and eaters, well, EAT!
Dates
Dates and figs are the darlings of the culinary world right about now. Did you know there's oh so much more to dates than Medjool? There's Khadrawy dates (native to Iraq) which are smaller than Medjool and have a higher moisture content, less sugar, and mild nutty, creamy flavor. You can recognize these by their lighter color and think, paper-like skin. Barhi dates (pictured above) are native to the Gulf region and can be enjoyed crunchy and green or soft and ripe. When green or yellow, their flavor is a combination of green apple and fresh coconut. When ripe, they're sweet and nutty with a very distinctive caramel flavor. Right now, you can get them at your farmer's market so be on the lookout for the beautiful sprays of Barhi dates. Just keep them in your kitchen the same way you would flowers and have a few when they're green, then yellow, then when they're sweetening up and turning brown.
As for good old Medjools, cook up some sweet onions and add a few dates to the mix and slather than on a burger and bun. Arugula in lieu of regular butter leaf will give you a nice punctuating offset to the sweetness of the dates and onions.
Corn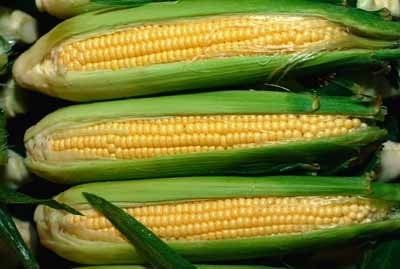 Boil it, grill it, eat it raw, nothing says summer quite as well as fresh, sweet corn. Want to know the surefire way to make corn that's never overcooked? Get a large pot. Shuck and peel that corn. Put it in the pot. Run the tap until it's cold. Now add water to the pot until it just covers the corn. Put it on the stove and turn the heat to high. The moment it starts to boil, remove the pot, drain and rinse the corn under running water. You can butter it right after that. It's just that easy.
Now how else should you make the most of the season's corn? Corn and arugula salad with a bit of parmesan and olive oil is always nice. You can make a nice corn succotash too. Just caramelize a few onions, slice that corn off the cob and add it along with some cubed bell peppers and you've got an easy side for barbeque chicken, pan fried steaks, you name it.
More great corn recipes here.
Quick and Easy YouTube video: How to Shuck Corn This guys is just darlin'!
Peaches and Nectarines
Are they even anywhere near as good as when they're sun-ripened sweet and fresh? Now's the time when of the season when I'll dig in deep and buy as many ugly but otherwise gloriously sweet and flavorful peaches as I can to make peach syrup.
Peach Syrup
Peel and core as many peaches are you're going to use. Optimum: 10-20 peaches. Remove any brown or overripe sections and use a melon baller to remove most or all of the red flesh surrounding the pit. Place peaches in a large stock pot. Add cold running water, just enough to cover the peaches.
Bring to a boil. Reduce heat to medium high.
Add 1/2 cup granulated sugar for every 5 peaches. Stir. With a potato masher, push down on larger segments of peaches. Cook with the lid off for 30 minutes.
Reduce heat to low and cover. Cook for another 60-90 minutes, mashing and stirring occasionally. You can add more water if necessary.
Can as you would preserves if you'd like to store for later use or cool to room temperature and pour into a glass container. Will keep un-canned for about 10 days.
This Peach Syrup is excellent on pancakes, as an ice cream topper or ice cream base and makes one mean cocktail too!
Summer Love Nectarine Juice
Take some really ripe nectarines (2-3 per pitcher)
Peel off the skins, remove pits and cube
In the pitcher, mash nectarines with potato masher
Squeeze 3 limes into pitcher and stir
Add 3 cups ice.
Fill pitcher with water
Let sit for 5-10 minutes and stir
Enjoy one really cold, refreshing beverage. Grown-ups: feel free to spike with vodka or white wine.
Or how about a Rustic Peach or Nectarine galette?
Heirloom Tomatoes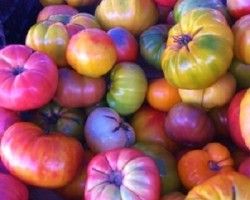 If you call yourself a tomato-lover and you haven't had heirlooms this season, now's the time! So what should one do with the mighty, ugly heirloom?
Slice and serve with fresh mozzarella, balsamic, olive oil and salt. Of course you have to do this. Then, make yourself a salad with another great summer vegetable, fresh, raw corn. Shave that into a bowl, add big, diced chunks of heirloom tomatoes, and either basil or arugula, fresh cracked black pepper, olive oil and you're got a simple summer salad that's about as good as it gets.
Quince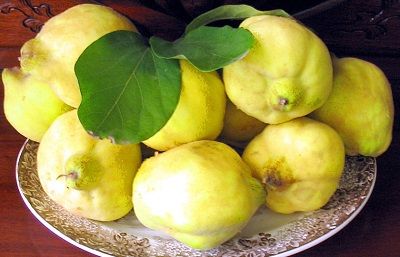 Yes quinces are in season and if you're anything like me, chances are you don't know what to do with the quince. After all, what is the dern thing anyways? Turns out the quince really is different than any other fruit out there. In fact, it's the sole member of the genus Cydonia which belongs to the family Rosaceae, making it more like a second or third cousin to it nearest edible relatives apples and pears. Eaten raw, the texture is much like an apple but they're pretty tart. Cooked down in water just a bit is when this fruit really starts to sing. Quince jelly is also very popular among the Brits and New Englanders (I think). It pairs well with quail, chicken and other poultry. It's also the original fruit used in marmalade and is really nice with sheep's milk cheese. That with a little butter on a brioche sounds heavenly right now.
As for my own quince adventures, I'm opting for this savory beef and quince Greek recipe, a real classic that sounds every bit as good as some of the other Greek stews I've tried.
I hope my suggestions will encourage you to savor everything the season has to offer. As always, send your suggestions and tips my way!
Happy Eating!