Isn't sweet summer corn just about the best thing there is? Want to make the best boiled corn that's never overcooked? It's super easy. Start with freshly husked corn. Rinse it and place it in a big pot. Add cold water straight out of the faucet, enough so the corn is completely covered plus about six inches. Place on the stovetop. Turn on to medium high and cook uncovered. The moment the water starts to boil, pull the pot off the stove and drain and rinse corn in cold water (yes you can use ice-cold water to blanche it here too). Voila! You have perfectly boiled corn that's never overdone. Now here's three other ways to get the most out of this summer's corn.
When I was growing up, we'd go around the corner and buy corn made in the following way for a buck. We had to eat the stuff standing there with only two thin napkins (that's all the vendor would give us) and that was just fine! This isn't something you wait to eat nor is it diet-friendly but what of it!
You're going to start with grilled corn for this one and although I could give you my way of doing it, I've found that chef (what's-his-name?), Bobby Flay has got the winning preparation which basically puts everyone else's to shame. So, just check out his way of doing it right here and then come back here for the Tex Mex part of the equation.
The ingredients below are listed in the order of application. The idea is to completely cover the corn 180 degrees, just the same way most of us butter it. I make these one at a time. That's the way I saw the street vendors making them since setting them down, means smudging the toppings. You're going to want something to hold onto, so in accordance with Flay's way of doing it, keep those husks on the cob, to use as handles, otherwise use corn skewers.
Tex Mex Style
2 limes, sliced into 8 wedges
¼ cup (equal to ½ stick) salted butter, melted
6 tablespoons mayonnaise
6 tablespoons Cotija cheese, finely grated
2 tablespoons chili powder
Carefully peel back the husk on the corn. Squeeze the lime on the cob, then brush on the butter. Using a spatula or brush, apply the mayonnaise. You're going to want to use enough of it to get the Cotija to adhere to the corn. Sprinkle with either a lot or a little chili powder.
Want something really fresh and light for those hot summer nights? Add grilled chicken to the recipe below and you've got a complete meal. Serve it alongside steak and potatoes and you've got a fantastic side that's really refreshing. You can add a little romaine or butter leaf lettuce too, if you're so inclined.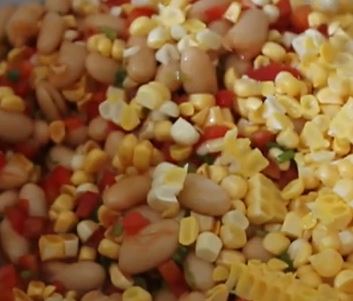 Fresh Summer Corn Salad
Dressing:
3 tablespoons extra virgin Olive Oil
3 tablespoons rice vinegar
3 tablespoons BBQ sauce
1 pinch red chili powder (optional)
Salad:
Sweet corn raw 6 cobs, sliced off the cob
1 can Cannellini beans, rinsed and drained in cold water
1 red bell pepper, diced
2 green onions, diced
In a large bowl, combine all dressing ingredients. Next, slice fresh, raw corn kernels into bowl and quickly toss. Add remaining ingredients and toss. Salt to taste if necessary
The following soup is fantastic served alongside a nice baguette and maybe a little white wine. I find this soup a perfect precursor for dinner that's also a surefire way to get everyone out of the kitchen! Serve it in small bowls, so everyone can mill around prior to the big sit down. Also see Spanish White Garlic Soup for another great appetizer soup.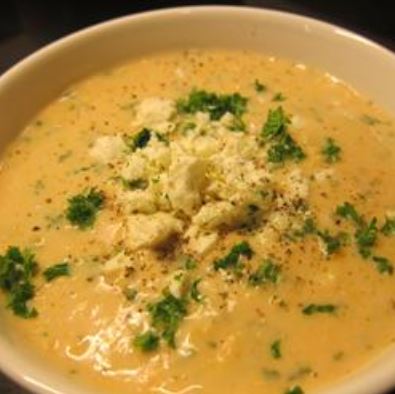 Saffron and Cotija Corn Soup
4 tablespoons unsalted butter
1 cup chopped shallots
4 cups (48 ounces) low sodium chicken broth
2 cups whole milk
6 ears fresh yellow corn
6 tablespoons Cotija Tajo
20 threads saffron spice, crushed
1 teaspoon sea salt
1/2 teaspoon freshly ground black pepper
1-1/2 tablespoons finely chopped flat leaf parsley plus more for garnish
Set one ear of corn aside. Use a sharp knife (always slicing away from you) to scrape off of the remaining 5 cobs. Then, break the scraped cobs in half. Set aside.
Over medium-low heat, melt the butter in a large pot. Add the shallots and cook, stirring often, until soft and translucent, approximately 8-10 minutes. Add the chicken stock, corn kernels, broken cobs, ear of corn, sea salt and pepper to the pot. Once this mixture gets somewhat hot but not boiling, remove about 6 tablespoons of the liquid and place in a small glass or porcelain bowl. Quickly, crush the 20 saffron threads with mortar and pestle and add to liquid. Let this steep to help the saffron release its flavors. Continue cooking ingredients in the pot. Bring just near to boil, then quickly reduce to medium-low, stir add whole milk, and cook uncovered for another 10 minutes to heat milk. Stir often to prevent milk from scalding. Remove the whole ear of corn. Set aside to cool. Add saffron liquid to the pot and stir. Cook the soup for another 10 minutes, then remove the broken cobs from the pot and discard.
Remove pot from heat. If you have one, use a hand held immersion blender to purée the soup until smooth. Soup should have a creamy consistency without being gloppy. If it's too thick, thin it with water or chicken stock bit-by-bit. If the soup is too thin, cook over medium heat and reduce until thickened.
Use a knife to cut the cooked kernels off of the cooled whole cob. Add the kernels to the soup along with the flat leaf parsley. Taste and adjust seasoning with salt and pepper. Ladle the soup into bowls and top with one tablespoon Cotija cheese.
If you don't have an immersion blender, let the soup cool slightly and purée it in batches in a blender. Be sure to crack the lid or remove the center cap to allow the steam to escape (cover with a dishtowel so it won't splatter). Rinse the pot and return the soup to the pot and reheat before serving.
Well that's it for now! Hope you enjoy my 3 favorite ways of enjoying summer corn! Feel free to share your favorite corn recipes anytime!
Happy Eating!