It happens every year. Post-holiday-season and it hits me. I know I'm not alone. A number of food lovers and chefs have confessed suffering from the same plight—I'm sick of food.
"Huh?" you say, "How can you say that?"
Let me explain. Despite trying (operative word is trying) to be good during Thanksgiving, Christmas and New Year's, I definitely ate my share of turkey, stuffing, rich desserts like cheesecake and pumpkin pie, chocolate mousse, homemade breads and my aunt's homemade croissants. Then there was Uncle Frank's legendary pot roast, Mom's seasoned pork loin, and my own Southern-style cornbread-bread pudding, doused in buttermilk.
Then, there were the homemade pot pies. Lot's of them.
Once the New Year is underway, I generally fight the urge to feel guilty. There's something about feeling guilty right when the local gym and Weight Watchers wants us to that makes me rebel. But yes I could lose the few, okay more like five, pounds I put on but I'm not ready for smoothies and salads just yet. With the weather still being rather cold and wet I want something a bit more satisfying.
So…
What's one to eat now?
Well, how about umami-rich foods that are good for you and will really satisfy? Check out the super-quick legume rich lunch I tossed together.
To sate my umami craving, I went with beautiful, fresh shitake mushrooms. Sure they were $4.79 a pack but well worth it. Then I zapped a package of Trader Joe's great Melodious Blend. It's basically a pound of flash frozen, green garbanzos, red and green lentils and an almost non-existent bit of tomatoes. All I had to to was heat up a tablespoon of sunflower oil, throw in those shitakes, add a bit of fresh spinach, throw in half a bag of the Melodious Blend and then add my new favorite ingredient–a couple roasted peppers. Don't ask me why but the texture of jarred roasted peppers and the vibrant red color always makes me happy (try scrambling them with eggs!).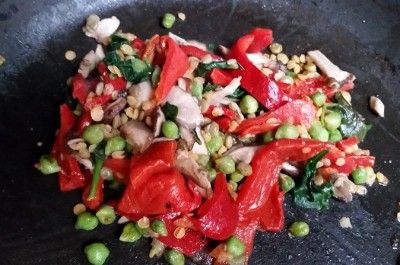 Lunch anyone?
So, for those of you who are feeling the way I do, what else can you eat to combat the post-holiday-food-gloom?
Here are some ideas:
Asian Persuasion
Ramen, Udon or Pho
Banh Mi sandwiches (blog post)
Chinese Style Rice, Chicken and Ginger Soup
Stir Fry (try different veggies and sauces to keep it exciting)
Eggs and Rice (fried or white with soy sauce and scallions!)
Latin
Homemade Tacos
Pozole (Chicken or Pork)
Chicken Verde with Spanish Rice
Black beans and rice with plantains
Spanish Tortilla (Spanish Potato Omelet)
Veggie-licious
Rice and Bean Medleys
Umami rich mushrooms (Shitake and Enokitake)
Spinach Omelettes topped with Parmesan cheese
Roasted Sunchokes, Squash, and Beets
Rutabagas (must try)
Leeks (so good)
Pearl Onions
Black garlic (yum)
Yucca (makes excellent french fries)
Here's to getting back to Happy Eating!!!