When it comes to the World Cup, I'm rooting for Argentina! Why? The food! Why else would I care! Sure Holland (the team they're playing tomorrow) has great donner, ice cream and orange-juice filled afternoons but I'll take Argentine cuisine any day of the week. With Spanish, Italian and indigenous influences in its cuisine, Argentine food is vibrant and bursting with flavor. Add a little wine and Tango music and we're talking fun guys–FUN!
The Tallarines Golfo Nuevo is Argentina's answer to Fruitti di Mare. The trick to making this sing with wonderful aroma is to dig in deep for that tiny bit of saffron you'll need at the end and (do I even have to say this?) use the freshest produce and seafood you can get. Is that red pepper in your cupboard over a year old? Get more before you make this truly amazing dish. After that, get those plates set up in the kitchen and practice a little good old mise en place and you'll come off looking like one fierce Argentine cook! Buena onda!
Tallarines Golfo Nuevo
3 tablespoons extra-virgin olive oil
2 cloves garlic, sliced
1 shallot
½ teaspoon ground red pepper
1/2 cup dry white wine
10 ounces linguini pasta
3/4 cup tomato sauce
12 black mussels
12 Manila or littleneck clams
10 shrimp, shelled (tail intact) deveined
6 sea scallops, quartered
6 ounces calamari, cut into thin rings
Sea salt (nominal)
Sprig parsley (to garnish)
1 thread Saffron (garnish)
For the pasta, bring water to boil in a large pot.
While you're waiting, chop garlic and shallot. In a large sauté pan, add one tablespoon olive oil. Cook over medium-high heat until translucent. Be careful not to burn the garlic! Add red chili flakes and sauté for one more minute.
Once water is at a rolling boil, add linguine. Salt if desired. Set timer for 3 minutes. When ready, test and remove. Toss with olive oil.
To sauté pan, add wine and tomato sauce. Stir until blended well. Add mussels, clams, shrimp, scallops, and calamari. Cook covered, until shells open approximately 5–7 minutes. Uncover sauté pan and allow to reduce for 1 minute more. Plate the Tallarines Golfo Nuevo atop linguini and season with sea salt, pepper and saffron if desired. Garnish with parsley.
This next recipe sounds downright strange, heck it even looks downright strange but anyone who's had this dish simply cannot stop talking about it. Texture eaters, if soaked bread will most likely be problematic for you, toast it in the oven prior to coating with the cilantro-garlic-oil mixture. Personally, I like the way so much of the flavor permeates the bread but everyone has their own way of doing things. Also, if poaching eggs just isn't part of your repertoire, go ahead a soft boil them and add them to the soup when you plate it. If that's they way you go, add a little salty cheese, like Pecorino Romano, Prmigiano Reggiano or the Argentine Sardo if you can get it. Also, a friend of mine swears by adding prosciutto to the top of this but I have yet to try it. Why mess with perfection, huh? Also, this isn't the first time I've written about "bread soup." Check out this Spanish recipe here.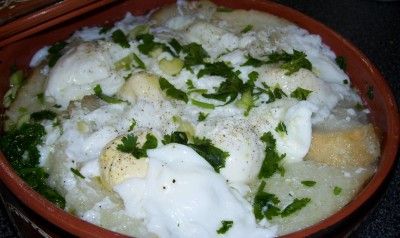 Açorda à Alentejana (Cilantro Bread Soup)
6 cups day old crusty, day-old French or Italian bread, sliced or pulled apart into 1-2 inch pieces
4 garlic cloves, peeled and chopped
1 bunch of cilantro, washed with stems removed
Cilantro garnish (if desired)
2 tsp sea salt
1/3 cup of olive oil
4 medium eggs
5 cups boiling water
2 cups chicken or vegetable broth
1/2 tsp freshly ground black pepper
Pulverize the garlic and cilantro together until it forms a thick paste. You can pulse in a food process for a few seconds to do the job, but finish it with a mortar and pestle to get the flavors to bind together thoroughly. This is important! Once done, spread the cilantro garlic paste onto the bottom of a casserole dish or large flat plate. Drizzle with olive oil.
Using tongs or hands, coat each piece of bread with the cilantro garlic and olive oil mixture. Transfer to soup bowls and sprinkle with freshly ground black pepper.
Now, bring water to boil water in a large, non-reactive pot. Add sea salt. Once water reaches a rolling boil, poach eggs by gently swirling water in a clockwise motion. Immediately add 2 cups chicken or vegetable stock. This process should take no more than 2-3 minutes, to prevent eggs from overcooking.
Remove from heat and ladle soup into bowls over the bread. Be careful not to break the eggs. Use a slated spoon to gently scoop out the eggs, place one in each bowl. Garnish with fresh cilantro if desired.