Looking for an inexpensive food processor for the home? One that'll help you get those meals on the table, whip up a quick soup, chop onions, carrots and maybe even whip up those cookies, breads and pizza doughs?
Whether you're buying yourself that extra special Xmas present or are really going all out for someone special, there's definitely no shortage of food processors on the market.
To save you time, we've gone through tons of the info out there and come up with what we've deduced to be the best buys on the market.
Best Overall Value: The Cuisinart MP-14N Limited Edition 14-cup Food Processor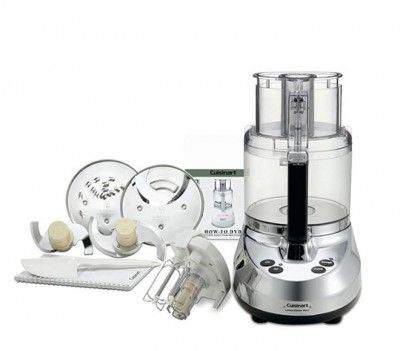 As criteria for "best overall value" we looked for a machine with a minimum of 12 cup capacity and a broad range of capabilities and attachments. The 12 cup capacity significantly narrowed the playing field, considering many of the KitchenAid and Cuisinart units out there have a weird, un-recipe-friendly 11-cup-capacity. We also wanted to be able to do everything with our food processor from slice and dice to shredding and even do dough. Lots of Cuisinart's other models were contenders right up to their capacity to knead dough and sadly, none of the models we found have a dial feature that allows you to speed up or slow down the processor with a simple turn. Don't care about dough? Check out the Cuisinart DFP-14BCN at about $170 it's got a nice price and overall reviews come to about a B+.
Our winner for best overall value will run you approximately $350. With a nice 20 year warranty and two bowls, both 11 cup and 14 cup capacity, Pulse and Dough controls, a rounded shape, big mouth and included discs and blades (dough blade too) all on top of an over 3/4-horsepower induction motor make this a very good buy.
Best Food Processor under $200: Cuisinart Pro Custom II DLC-8S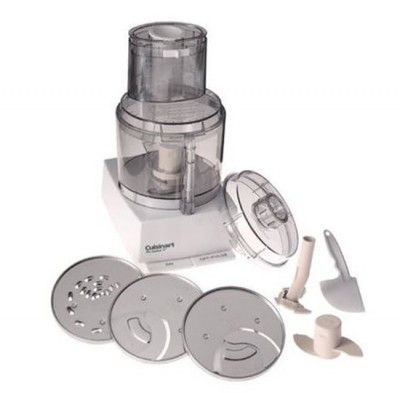 Cuisinart wins again in this category with their Pro Custom 11 DLC-8S. Exact motor specs are not avail so we can't tell you just how powerful this machine really is but we can tell you Consumer Reports gives it their stamp of approval. Chopping, slicing, dicing and yes, making dough, all of it can be done with this unit. It's 11 cup capacity means you probably can't make double batches with this unit and there's a few suggestions out there for a pour spout, better alignment between the feeding tube and chopping blades and attachments that last longer than one year. But, for less than $200 it's overall, a nice machine with plenty of capability and overall nice design.
Best for Under $50: Black & Decker FP2500B Power Pro Wide-Mouth 10-Cup Food Processor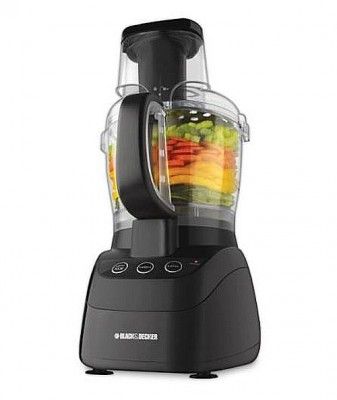 Okay this will cost you right about $50 on the nose. The Black and Decker 8-cup is cheaper but this one does dough and you know how we like that! This cheapish unit will do high, low and pulse and even though it's got only a 500 watt motor it seems to make ample use of it and is great for chopping, slicing and dicing and the like. Only major complaints are of noise. This guy is loud! As for the lifespan of this product, expect to get what you pay for, meaning it'll probably last you about a year to a year and a half (garnered from reviews on Amazon).
Best Pro Food Processor:
Robot Coupe R2N Commercial Food Processor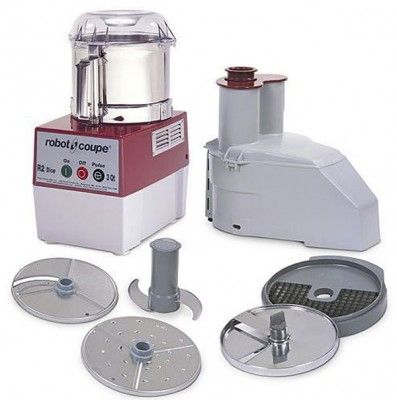 With looks that only a mother could love, this Robot Coupe R2 is the standard in professional kitchens from Austin to Paris to Hong Kong. Truth of the matter is, professional chefs probably aren't going to use it for dicing and chopping the way home cooks do but they will shred tons of cheese, whip up pie crusts, all matter of dough, nut butters and yes, this machine can even do julienne! Pureeing liquids and reducing chunky ingredients is a breeze with the R2 and it's a superb bread kneader too.
The Robot Coupe has a motor base that's about twice as big as the biggest home-use food processor. Of course, you can research their Magimix line of food processors made for the American market. One is priced about $50 higher than our Cuisinart winner for Best Overall but has some really nice features that anyone who likes the Robot Coupe label is sure to enjoy. If you're a chef or cook who has got to make large volumes of anything from pastry dough to ground beef, this is probably the machine you'll want to stock in your kitchen and it'll last years and years. Blades are expensive and only 3 come with this unit, so do your research.
Money to Burn:
Magimix by Robot-Coupe Food Processor 16-Cup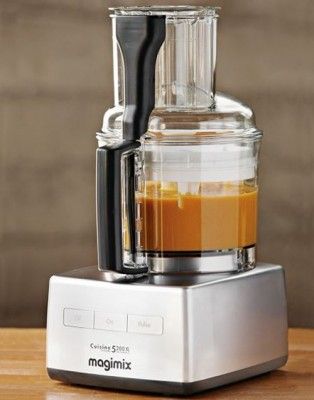 Call it the Rolls Royce of food processors, made in France, this Magimix by Robot Coupe will handle every task you can throw at it. It can even crush ice! 1100 watt motor, Sabatier blades and several work bowls make this a machine that can keep up with the most serious home cook or chef who also cooks at home. Extra-large feed tube eliminates the need to precut most vegetables and meats. The amazing Robot Coupe motor automatically adjusts in power and speed to perfectly suit the job at hand, from kneading delicate doughs to crushing hard candies and mincing, slicing or julienne. if you're got money to burn or someone wants to get you an extra special gift, here's one that will be enjoyed for years to come!
Well I hope our little survey has been of help to all you fabulous foodies on a mission to find the right food processor for the right price. Have fun mixing up those holiday cookie doughs! As always, happy eating and happy shopping too!