Are you asking yourself, "should I go to culinary school?" Becoming a chef can be a very satisfying–and rewarding–career. But it's a competitive field filled with long hours, exacting work, and at times demanding clientele. Tastes come and go and you need to be able to adapt and evolve or risk being left behind.
Late nights mean your social life will be nearly non-existent and you'll spend most of the time on your feet. The starting pay won't put you in the penthouse and if you're thinking of starting your own spot, around 90 percent of new restaurants close their doors within a year.
Sounds like a lot of fun, right? To sweeten the pot, we're here to tell you culinary school students are often required to spend years in practice kitchens while paying hefty tuition. And there's still no guarantee you'll actually spend time in a real kitchen or experience real work in a restaurant.
But if you live to cook, to fill the bellies of friends and family, and give them a dining experience they'll never forget, a culinary education makes a lot of sense. So much of cooking comes from a willingness to try new flavor combinations while still knowing how to read a recipe. What you learn in culinary school opens a world of possibilities.
Advantages of Culinary School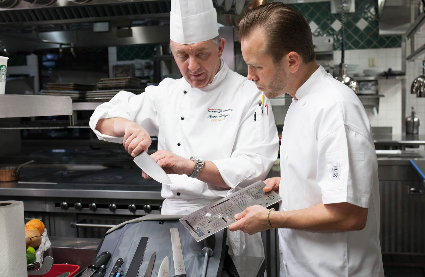 As with any educational experience, there are pros and cons of culinary school. In some circles, having a culinary degree from the right institute of higher learning is the ONLY way to start a career path in the food industry. That a higher education with the right chef instructor in the right city is a necessity.
And, in some restaurants/kitchens, it may be. The key is knowing exactly what you want from your culinary career. Whether it's to run your own kitchen, start a catering business, or be a line cook, make sure you match your education with your career goals.
Even executive chefs spend very little time cooking (it's more of a managerial position). But those positions are usually reserved for those with years of experience as part of the kitchen staff or taking business-related courses. If you are considering culinary school, the better question may be what's the best culinary school to attend.
Becoming a chef is so much about feeling, about getting into the kitchen and just putting in the work. And although we like to think of the culinary arts as a creative endeavor, there are technical aspects of the profession as well. This may be where most of your education comes into play.
Having a formal education in culinary sets you up for other opportunities as well. Having a background in the culinary arts could help you outside of the kitchen as well. With the knowledge gained in an educational setting, you could become a food critic, oversee the menu at a hotel resort, or become a restaurateur.
Should I go to culinary school?
If you're truly interested in a career in the food arts, you should definitely attend culinary school for no other reason than to create a solid foundational skill set. From learning how to identify fresh meat, poultry, and produce to creating a menu, there are educational building blocks that need to be in place.
The question, then, is which culinary schools should you consider. In many industries, completing a degree program from a four-year university or trade school after high school is an absolute necessity. That's why you don't see too many doctor's "apprentices" in the operating room.
When searching for the right educational fit, consider your career goals. If you long to be a pastry chef, there probably isn't a reason to learn how to identify and cook different kinds of shellfish. You'll want to consider how much time is spent in a classroom as opposed to actually rolling up your sleeves and creating digestible masterpieces.
There are financial considerations as well, both in the cost of tuition and if you need to move to attend the "right" school. If you're just out of high school, it might make sense to pull up stakes and move to where you think you'll have the most opportunities. But if you're considering a career change, it's a little more complicated than just pausing your life.
Why the CASA Program Works
When you enroll in the Chef Apprentice School of the Arts (CASA), you'll be working one-on-one with chefs that are currently working in the industry today. So many cooking schools hire former chefs and others that have hung up their professional aprons. And when you're done with their education, you may be on your own when it comes to getting actual working experience.
With CASA, that experience is baked into the coursework. After several weeks of private, one-on-one time with your mentor, completing assignments, documenting your progress, and cooking up a storm at home, we'll put you in the line of fire. You'll be working in a professional kitchen with your mentor during open hours, taking your place with other line cooks, and learning what it really means to make this your job.
We offer both in-person and online courses, meaning you can apply and enroll from almost anywhere in the U.S. You can get the education you need to pursue a life in the culinary arts without having to upend your current life. We want to make these opportunities more accessible–why make a very important decision that much more difficult?