Love rosemary? Well here's an easy recipe for rosemary chicken breasts that's got just a little more kick than the usual. For those of you who aren't diehard rosemary fans, you may want to go with one or one and a half sprigs of rosemary.
Rosemary Garlic Maple Chicken Recipe:
2 chicken breasts, skinless and boneless
6 cloves garlic, minced
3 tablespoons olive oil
2 springs rosemary, chopped
1 tablespoon maple syrup
1 lemon
1/2 cup white wine or chicken stock
Dash cayenne pepper
Salt and pepper to taste
For Brine:
2 1/2 cups water
1/2 teaspoon brown sugar
2 tablespoons iodized salt
Instructions: Preheat oven to 450°F. to prepare the brine, combine 1 cup very warm water with 2 tablespoons table salt. Stir well. Add 1/2 teaspoon brown sugar. Stir until dissolved. Add 1 1/2 cups cold water and stir. Your brine is now ready for use. Place chicken breasts in a glass or porcelain baking dish. Add brine. Cover and refrigerate for twenty minutes. Next, chop up the rosemary and mince the garlic. Add a tiny amount of olive oil and combine well. In a small bowl, combine the juice of 1/2 lemon and wine. In a ramekin, combine one tablespoon maple syrup with a squeeze of lemon and a dash or two of cayenne pepper.


After 20 minutes, remove chicken from refrigerator and drain. Completely cover the chicken with the rosemary and garlic combination. Drizzle with remaining olive oil. Bake for 20 minutes.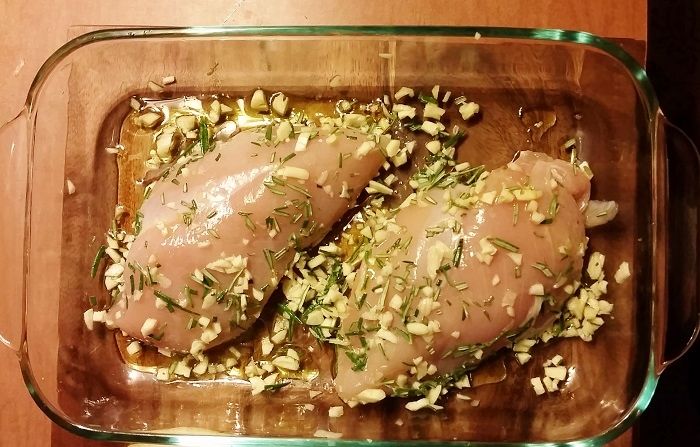 Next, brush or drizzle maple cayenne sauce to the top of the chicken breasts. Pour lemon wine combination into the baking dish. Reduce heat to 350°F. Bake for an additional 10 minutes. Turn oven off and let rest for an additional 5 minutes prior to serving. Slice remaining lemon into wedges for serving.
Definitely the star of the show, this dish pairs well with plainer sides like steamed or roasted fingerling potatoes, rice, mashed potatoes and greens including a simple salad, green beans or kale.
Enjoy and until next time…
Happy Eating!