Light, healthy, and flavorful, the hardest thing about this dish will be slicing all your veggies in skinny strips. Nevertheless, the final presentation is well worth it.
If you're so inclined, you can add chicken, beef (in which case I recommend seasoned skirt steak) or shrimp but I think it's perfect as is.
Recipe
1 lb. linguine pasta
1/2 lb. young asparagus spears
1/2 lb broccolini
1 stalk leeks
1/2 cup spinach
3 artichoke hearts
1 small package chives (you'll use 4-6 strands)
1/3 cup shredded or finely grated Parmisiano-Reggiano (low moisture is best)
1/3 cup olive oil, plus 3 tablespoons
35 pistachios, shelled
1/3 cup pasta liquid (reserved))
2 cloves garlic
1 lemon
Sea salt
This dish has quite a few ingredients but it becomes really easy when you break it down like this: Most of the veggies will be blanched except for the leeks which need a bit of time to sauté then sweat with the lid on to ensure they're tender. With the exception of a few spears, the asparagus, garlic, olive oil and pistachios will comprise the pesto. After that, you're looking at some quick plating and presentation, so be sure to get your mise en place on!
To prepare the primavera vegetables: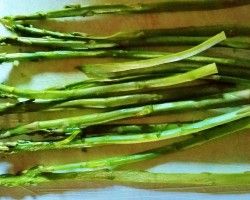 Slice 4-6 asparagus spears in half or quarters, lengthwise.
Slice all the broccolini into skinny strips, following the natural indentations in the vegetable (tiny trees!). Slice two artichoke hearts julienne. Rinse 4-6 chives and set these vegetables aside in separate piles so they are ready to go.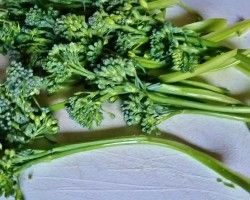 And do the same with the leeks. they'll look like gorgeous leaves of grass.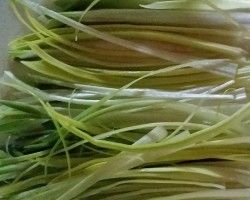 Cook leeks:
Fully wash and trim leeks, removing most of the tough dark green tops and slice julienne.
The leeks will take approximately 10 minutes so you can heat the water for the pasta and to blanch the vegetables while doing the leeks. Heat three tablespoons olive oil and sauté for two minutes then cover with lid and cook on medium heat, stirring every two minutes or so. It's fine to cook the leeks slightly ahead of when you blanch the vegetables, just let them sit in the pan with the lid on.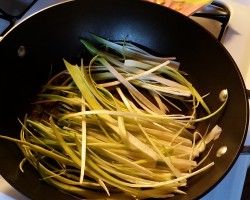 Blanching:
Have a bowl of ice water standing in the sink. The asparagus need to be pretty tender so you'll blanch them a bit longer than usual, five minutes to be exact. Insert your trimmed half-pound of asparagus plus the 4-6 spears you sliced julienne. After five minutes, remove the asparagus, and place in ice bath and blanch the broccolini for 2-3 minutes and remove. Add spinach and remove. You do not need to give the spinach an ice-bath. Lastly, add the chives for a few seconds and remove, plop into bath and set aside on paper towels.
For Pesto and Pasta:
In a blender, food-processor or bullet–Combine pistachios, garlic, cooked spinach, olive oil, most of the Parmisiano-Reggiano (leave a bit aside for garnish) and pulse for a few seconds. Retaining the spears you sliced julienne, chop the rest of the asparagus into one-inch segments. Add and pulse for 2 seconds. Leave chunky. Boil linguine (gluten free works well too) according to directions. Once pasta is done, drain and reserve some of the pasta water. The easiest way to do this is to put a cup underneath the colander. If that doesn't work for you, just ladle some of it out just prior to straining. Add five tablespoons of the pasta water to the blender and pulse to combine into pesto-consistency. Add lemon and salt to taste. Combine linguine and pesto in pot. Try to coat each strand with a generous amount of pesto.
To Plate:
This plating method will get all your skinny vegetables swirling in the same direction.
Lay out a portion of leeks as your first layer.
Cover that with a layer of linguine.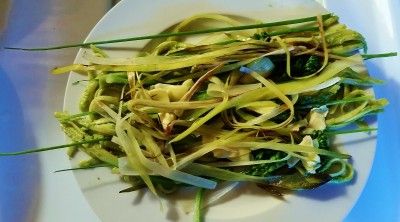 Cover that with a layer of asparagus, broccolini, artichoke hearts and chives, all going in the same horizontal direction. Add more leeks if you like.
With a clean hand reach into the center of the layered pasta and vegetables and swirl clockwise. You'll see the outer layers of pasta move as well. Towel off the edges, sprinkle with Parmisiano-Reggiano and maybe a few crumbled pistachios and serve.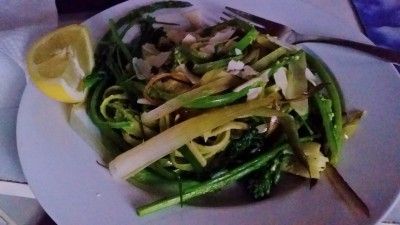 Enjoy! I sure know I will!
Until next time…
Happy Eating!