Fine, go ahead and laugh at me. For years I've been trying to perfect my technique for roasting chicken breasts so they're perfectly flavored, moist and have a wonderful crispy skin. I've marinated, rubbed, purchased roasting pans, fussed with tenting half-way though, I've pan-seared, baked at high-temp then low and baked at low temp then high, I've lovingly encircled my chicken breasts with aromatics, citrus and a medley of herbs and none of it was what I was looking for. Then, I stopped all the fussing, thought about the cooking methods that had yielded the best results and tried this…
Despite what they say about marinades and rubs, I've found nothing works better than good, ol' olive oil, garlic, cracked black pepper and salt. So, I rinsed my bone-in, organic chicken breast in cold running water, patted dry and gave it a good once or twice over with this staple marinade. Then, I covered it loosely with plastic wrap and refrigerated it for about 30 minutes while I heated the oven to 500 degrees and prepped the sides.
I did what I did next thanks to the input of a friend and I must say I was resisting it all the while. I rubbed the skin of the chicken breasts with butter and then placed it, breast-side down into that hot oven and let it roast for 5 minutes. Then, I opened the oven and rubbed the chicken around on the pan and pressed it a bit and let it roast for another five minutes. In the process I could see the Maillard reaction doing it's thing. The was skin taking on a lovely golden color and the smell was just divine. Now did the butter burn the way I thought it would? Nope. I believe the reason for this was that there was enough olive oil on the chicken to prevent the butter from scorching. The next time I do this, I'll lightly coat my baking dish with oil just to be safe.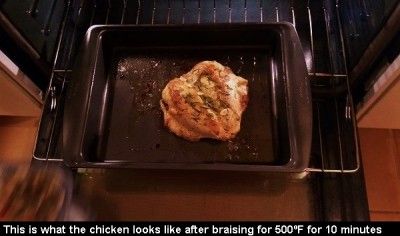 After the 10 minutes were over, I turned the chicken breast-side up and lowered the heat to 375 and baked for another 30 minutes. Then I topped with rosemary, a dash of lemon and baked for another 5. I pulled it out when the meat thermometer read 165 and topped with aluminum foil for another 10 minutes which I've found is crucial for any and all meat and poultry products since it really does seem to give their juices time to lock back into the protein.
The result was absolutely perfectly flavored, perfectly white yet juicy chicken breasts with very, very delicious skin! Served along with wild rice and roasted carrots topped with lemon made for a really earthy and nice dish that gave the chicken pride of place. I'm definitely going to make this again and again and again. For the fancier version I'll try topping that perfectly crisp skin with a bit of orange marmalade during the last five minutes of baking. I've recapped the recipe and directions below:
Recipe:
3 tablespoons olive oil
1 tablespoon unsalted butter
2 cloves garlic
1 spring rosemary
Sea salt (to taste)
Black pepper (to taste)
1 lemon wedge
Directions:
Marinade chicken breast in olive oil, garlic, salt and pepper to taste. Cover and let sit in fridge for 30-45 minutes. Bake, face down in 500 degree oven for 10 minutes and move once to redistribute juices. Turn chicken breast-side up, lower oven to 375 degrees, and cook for approximately 30 minutes. Add squeeze of lemon and top with fresh rosemary. Bake for 5 minutes. Remove from oven when meat thermometer inserted into the breast, but not touching the bone registers at 165 degrees. Cover with foil and let rest for 10 minutes and serve.
Enjoy your perfectly browned, butter-braised chicken! I know I will!
Happy Eating everyone! Until next time!