Love watermelon? Find you're often looking for ways to make it sweeter or more refreshing? Well, this recipe takes just minutes and is just as great with perfectly-sweet-watermelon as it is with melons that are less than stellar in sweetness or juiciness. For serving, chill a glass or porcelain serving bowl and if it's a grown-ups only kind of affair, one could add a little vodka or rum in with the fresh mint and lime but that's definitely not necessary. Oh so perfect for a day by the pool or for any barbeque, whip up a batch of this fruit salad and you'll keep coming back to this simple, easy watermelon recipe again and again.
Mojito Watermelon Salad
Ingredients:
1 medium watermelon
5-6 sprigs fresh mint, minced (1 package)
4 regular limes
2 dashes sea salt
Preparation:


If you're serving in a chilled bowl, pop that in the freezer or refrigerator. Assemble your mint as shown and mince. The stacking technique I'm showing you here is perfect for when you want to chiffonade your herbs, fyi. If you were to chiffonade the mint, you would roll these little piles of mint leaves and then slice at a diagonal. For this recipe, minced is better since it enables the mint to release it's flavor into the lime juice which is exactly what you want.



Combine the minced mint and juice of four limes. Add 2 dashes sea salt which is equal to a quarter of a teaspoon. I find sea salt really is the best choice here. The salt actually sweetens the watermelon. Go figure!





Hate wasting watermelon? Well the best way to get the most melon is to halve the watermelon (you can place it on top of a clean dishcloth to prevent in from rolling), then slice each halve into slices like these. Next, with a pairing knife, slice between the white watermelon flesh and the red flesh. Just follow the same angle all along the slice of melon. From there, you can slice it into squares.

Combine watermelon and lime and mint mixture. If you've got 10-20 minutes, you can pop the whole bowl into the freezer for extra cold watermelon, or store in the refrigerator. Toss to redistribute the juice prior to serving.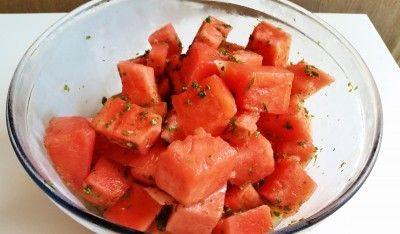 Enjoy! I know I sure will!
Hope you're having an amazingly chill summer!
Until next time…
Happy Eating!