This herb crusted salmon is about as good as it gets and it's healthy too! Serve atop a bed of greens and you're in for a super easy, super delicious lunch or dinner. If you've got an herb garden like I do, you might want to play around with the herbs you use. I recently added a sprig of fresh parsley and found that was really good while fresh cilantro was perhaps a bit overpowering.
Recipe:
Serves 2-3
1 lb salmon filet, skin on
1-2 sprigs dill, fresh
1-2 bunches basil, fresh (approx 24 leaves)
1-2 cloves garlic (according to preference)
2 tablespoons extra virgin olive oil
1 tablespoon canola, safflower or any light-flavored oil with a high smoke point
2 tablespoons oat bran
pinch salt
Saute or frying pan and lid
Rinse herbs. In a food processor with a small bowl, bullet or blender, combine garlic, one tablespoon olive oil, fresh herbs and a pinch of salt. Pulse for 20-30 seconds. Add in remaining olive oil and pulse for an additional 30 seconds or until mixture looks like pesto. Rub a small amount of olive oil on the flesh of the salmon. Next, pat herb mixture onto salmon as shown. Clean dry hands work best here so use them! Heat saute pan on medium high heat. Make sure your pan is at medium-high, not lower, not higher. Also have that lid on hand.



Place salmon, face-down, into saute pan. Cook uncovered for exactly 4 minutes. Turn and cook skin-side-down for exactly 3 minutes. Next, cover with lid and cook for exactly 1 minute. This 4-3-1 rule has worked for me with nearly any fish so now you know!
For greens:
1/2 teaspoon balsamic, 1/2 teaspoon Bragg's vinegar, 1/2 teaspoon Dijon mustard, 1 teaspoon olive oil and a pinch of salt was basically how I did it. I just tossed the ingredients in the bowl for a quick whisk before adding my greens. I'd normally opt for something more mixed with a little more color but alas what they had at the store looked dreadful so baby kale was what I went with. Wilted spinach is another nice option to explore.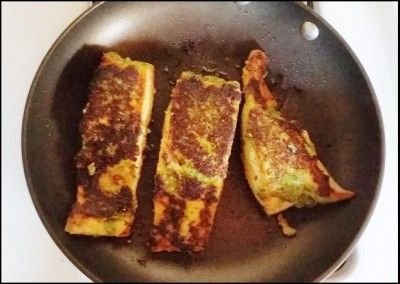 Until next time…
Happy Eating!