I love greens. Swiss Chard, kale, turnip greens, spinach, mustard greens, beet greens, carrot tops and yes, even dandelion greens. So what was I to do when my usual go-to-recipe just wasn't working for me anymore? How was I to change things up while still honoring the simple goodness of the greens? Answer: spice it up! Just a little spice and one wonderful roasted pepper gave this pot of greens a sweet and spicy depth complemented the natural somewhat bitter astringent flavor of the dino kale I was using just beautifully.  And though I didn't realize it at the time, my choice to go with one white onion and one sweet yellow onion, again, replicated the interplay between sweet/spicy and bitter/astringent.
Mind you, the recipe I'm about to share is about as simple as it gets but sometimes simple is the most satisfying, especially when it comes to making greens. I did not use ham hocks when I made this dish (I didn't want to go to the store) but I've included them in the recipe as an optional ingredient.
Ingredients: 
3 bunches hearty greens, in ribbons (I used dino kale but any thicker green with a longer cook time will work)
5 cloves garlic, minced
1 Pasilla pepper, roasted and diced
1 medium white onion, diced
1 medium Spanish yellow onion, diced
1/2 cup olive oil
1/4 pound smoked ham hocks or bacon (optional)
16 oz chicken broth
red chili powder (to taste)
2-3 tablespoons Bragg's apple cider vinegar
salt to taste
You're going to want to dice your onions and mince the garlic. Then, roast that Pasilla pepper on the stove, granted you have a gas range. If not, it's worth turning on the grill. Wash and completely dry off that pepper, removing any trace of liquid.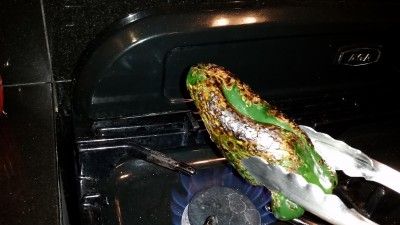 Also, you're going to need a Ziploc bag and paper towels, so have those handy. With heatproof gloves and tongs, hold the pepper over the a medium high flame and let it char. Turn it so it chars evenly on every side. It will make a popping sound as you subject it to the fire and the skin will bubble (it's kinda fun). Chances are you'll get everything except for the skin around the top of the pepper. Once that's done, plop the pepper into the Ziploc bag and close it.
Let that pepper sweat is out while you get those onions into a large, non-reactive pot, preferably one with a thick bottom. Heat up 4 tablespoons of olive oil on medium heat and add the onions. Two minutes later, add your garlic and stir.
Let the onions and garlic cook for about 5 minutes while you get that pepper out of that baggie and scrub the skin off with a paper towel. The skin will come right off after it's sweated that way.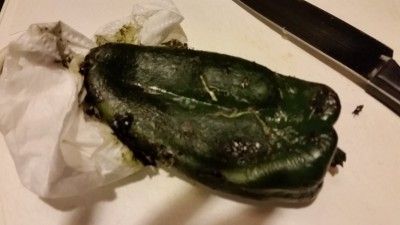 Now dice your pepper and throw that into the pot and let everything cook down together, stirring occasionally and add a bit more olive oil, maybe a couple tablespoons or so. If you're using ham hocks or bacon, add them after the onions are translucent and combine well. Cook for five minutes.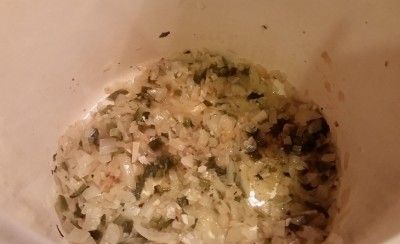 Next, add greens, preferably sliced pretty thin in 3/4 inch wide ribbons or thereabout. Combine onion mixture and greens, scooping from the bottom to the top. Add the remainder of the olive oil and stir. Add chicken broth and cover pot with a tight fitting lid. Lower heat to low. Cook for a minimum of 30 minutes.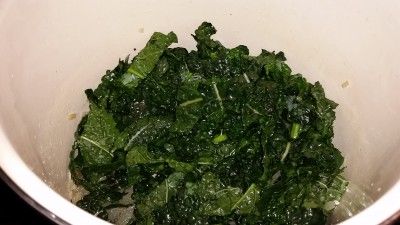 Remove from heat. Add red chill pepper to taste. I add this near the end to because the red chili pepper is less effective when it's cooked in too long.  Then, add salt and Bragg's vinegar to taste, usually about 2-3 tablespoons will give it a bit of extra zing but go slowly. While I'm a vinegar fan, others aren't!  These work great with just about anything you're having:  steak, grilled halibut, roast chicken or even just a nice, toasty chunk of baguette!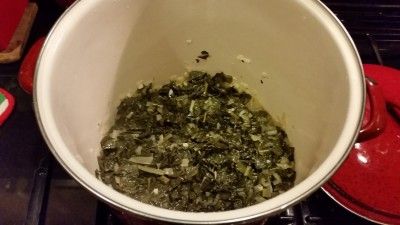 Until next time… Happy Eating!!!