There's no reason to say goodbye to succotash simply because spring is behind us. This classic dish is a perfect, healthy accompaniment to steak, grilled chicken, pork chops or pork shoulder or just about any meaty main course. The addition of roasted pumpkin really transforms this side dish, giving it the depth of flavor we've come to expect at fall. The pecans really make it sing, so definitely do not forget them and you'll see everyone is asking for seconds. Leftovers work great, heated up in the frying pan and topped with, you guessed it, a poached or fried egg.
Not a fan of lima beans? Substitute edamame, green lentils, great northern Whites even black-eyed peas or mung beans and you're good to go.
flash
Fall Pecan and Pumpkin Succotash
1 Small Pumpkin, roasted and cubed
1 lb. Lima Beans (fresh or frozen)
1 lb. Corn (fresh or frozen)
1 Red bell pepper, diced
1 cup Wild rice, cooked
1/2 Yellow onion, diced
2 strips bacon, diced
6 Tb. Olive oil
1/2 cup pecans, in segments, pan-toasted
1/2 lemon, juice
Dill
Black Pepper
Salt (to taste)
How to Roast a Pumpkin
Roasting a pumpkin is actually a breeze with one exception, removing the seeds and pith definitely requires some elbow work and you're going to need a spoon with a good edge. You can use a melon baller, measuring spoon or whatever gets the job done. What you're trying to remove is the fibrous, hairy pith. The texture of uncooked pumpkin is striated, so it can peel off in strips or strings too but that's actually the pumpkin flesh itself so just keep that in mind. If you accidentally leave any pith on the pumpkin, you can always remove it after you've roasted it so there you have it.
Slice the pumpkin in half, vertically. You may want to put a dishcloth underneath it to keep it somewhat stable. Using a sharp knife, carefully insert the tip into the top of the pumpkin. Try to line your incision up with one of the natural ridges (called ribs) in the pumpkin. Once you're through the stem, you should be able to slice through in one complete motion by pushing down on either end of the knife.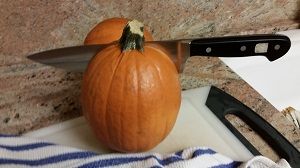 Place open-side-down in glass baking dish. Add enough water to cover one inch. Bake at 350 degrees for 25-40 minutes. Baking time varies a lot, based on size of the pumpkin and how moist it is. The pumpkin is ready when a fork slides into the flesh easily.
Remove and let cool. More on pumpkin can be found here.
While your pumpkin cools you can start in on the rest of the dish. Start with the cubed bacon, add onion. Let cook over medium high heart. You want lots of bacon fat and onion flavor, so let them cook and sweat together for awhile, 10-15 minutes, stirring frequently.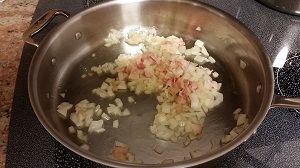 Next, add your bell peppers. Cook for an additional 5 minutes.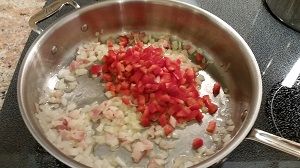 Then, add your fresh or *flash-blached corn and lima beans.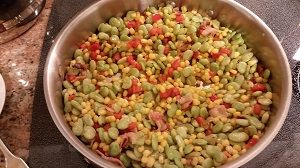 Turn heat to low. Now it's time to scoop out the pumpkin! Just get a large spoon with a hard edge and relatively shallow spoon or scoop area. Carefully slide the spoon between the pumpkin flesh and shell. It will be quite delicate to more slowly. First, work your way around the circumference of the pumpkin. The second time around you can dig your spoon in deeper to get more of the flesh. For this recipe you can remove the flesh in chunks though getting it out in one fell swoop is kind of fun.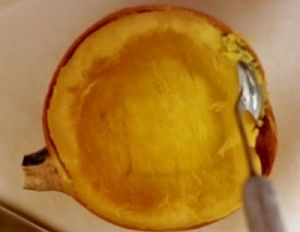 Once you have the flesh removed, massage it with a couple tablespoons olive oil and season with salt and dill to your liking. You can season the whole dish later but this ensures some good seasoning will stick to the pumpkin. The olive oil also prevents the pumpkin from being too starchy in texture.
Add your cubed pumpkin and one cup of wild or brown rice to the pan. Return to medium high heat and stir. Lastly, add those toasted pecans and stir it up. Add more dill, salt and black pepper to taste. Sprinkle with a squeeze or two of fresh lemon.
If you like, go ahead and fill up that pumpkin shell with the succotash. It makes a nice presentation for the table. Maybe I'll even add it to the Thanksgiving table this year!
Enjoy!
*Great instructions on how to flash-blanch vegetables can be found at this site.