Have a garden that's teeming with vegetables and you just don't know what to do? Well I feel your pain. I love fresh vegetables and so it makes sense that I got into gardening a few years ago. Nothing is quite as good as a homegrown tomato or homegrown 100% pesticide-free-lettuce but around this time every year I end up wondering "What can I make now?" So here's a few easy recipes for those times when you've got to use up all that gorgeous produce that are fun or easy or both!
Too Much Lettuce!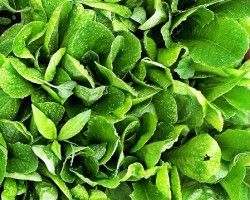 Lettuce Wraps
Got leftover Chinese in the fridge? Just heat it up and serve alongside any kind of lettuce. Eaters can have fun rolling their own wraps (kids love this stuff). Vegans, anything savory, saucy and Asian-ish will work, like quinoa with small cubes of tofu seasoned in soy or Bragg's Liquid Amino with maybe a few diced mushrooms and green onions. Meat-eaters, believe it or not, corned beef hash with a little more potato or rice and maybe even a fried egg makes a great lettuce wrap filler. Then you can always make Cashew Chicken too. Just think umami and dice those ingredients up a bit smaller than usual which will make the wrapping easier.
Shredded Lettuce Salads Asian Style
Yup, I'm sticking the Asian theme here. Think you've had all the salads you can handle? Have you gone Thai or Chinese? Never underestimate the power of a little toasted sesame oil and rice vinegar to get everyone interested in lettuce again. This time add cabbage to the mix and to further change things up, shred that lettuce. Ginger, orange and onion (white, red, green or scallions) are also great. Then if you've got some leftover chicken you can toss that in. Rotisserie chicken works like a charm too!
Here's a quick Asian-ish Dressing that'll jazz things up:
2 tablespoons rice vinegar
1 tablespoon white vinegar or Bragg's vinegar (or use red wine vinegar which will be milder)
1 tablespoon soy sauce
2 teaspoons toasted sesame oil
1 tablespoon hoisin sauce (vegetarians skip this)
4 scallions or green onions, chopped, including most of the white portions.
1 (1-inch) piece fresh ginger, peeled and finely grated
2 teaspoons honey (substitute brown sugar or molasses)
2 teaspoons Asian Chile-garlic paste (this is fantastic stuff! Find it in most any Asian market)
When days are warm, I like to shred all the lettuce and cabbage and even some basil too, and I'll plop it all in the fridge for a couple hours. The dressing can get made ahead of time and refrigerated too. Then, just toss all those cold ingredients and maybe throw in a few crispy wontons and mandarin oranges and you've got a really refreshing salad. Now watch the lettuce disappear!
Too Many Greens!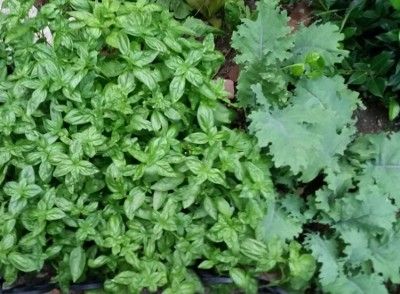 Make Green Pancakes
Savory not sweet pancakes is what we're talking about here. Whether you've got spinach, chard, kale, turnip greens, mustard greens, whatever, if it's a green you usually cook, it can go in a pancake, omelet or frittata. I've usually got too much Swiss Chard, spinach and kale. I'll put some broth or water in a large pot and add my chopped up kale first. Maybe I'll throw in a little garlic for good measure. Then I'll put the lid back on and let that cook for 5-7 minutes while I chop up the other greens. Next comes the chard minus the stems and then the spinach. Add two drizzles of olive oil and let it cook down for about 20 minutes, adding water if necessary. Strain and lightly salt the greens. Next, whisk together your egg batter. Add greens until mixture is pretty densely green but don't overdo it. You still need the egg to act as a binding agent. Pour egg and greens mixture into a heated omelet pan with a tablespoon of olive oil. I cover mine for 1-2 minutes to allow the center of the pancake to cook. Flip and cook for 1-2 minutes more on the other side. Serve with wild grain rice, quinoa or farrow. I eat mine with a little whole grain mustard on the side and cool, sliced tomatoes are really nice with this too!
or…
Make Green Soup
You're going to need onions and you're going to need greens to make this soup? Got both? Okay, now chop up anywhere from two to four onions. Maui or sweet Vidalia onions will give a great, sweet flavor to this soup. If you use smaller, sweet onions, chop up four to six of them. Now get them going in a pan with a little olive oil. You're going to caramelize them.
Don't even bother thinking about it. Grab all those greens, mustard, chard, kale, you name it. Now get a big, big pot and add water, broth or both. Minimum, at least 4 cups broth. Bring to a low boil. If you want a thinker soup, peel and quarter one or two yellow potatoes or add a cup of rice. This will need to cook for about 10-15 minutes prior to adding the greens. Now chop up or tear those greens and add them to the pot as you go. Replace the lid and stir, allowing them to cook down. Cook for about 15 minutes. Stir in 1-2 tablespoons of olive oil. Add salt to taste.
Now add those wonderful caramelized onions to the pot and stir. Blend with an immersion blender. Add chili pepper or cayenne pepper plus more olive oil or salt to taste. Remember cayenne can really sneak up on you, so go easy on it! Remove from heat and top with more olive oil and a squirt or two of lemon before serving. Yes you can store this and have it cold too! If so, try a adding garbanzos and serve with warm, crusty baguette! It seems totally Mediterranean this way (and with lots of lemon) but I doubt that it is!
Just too Many 'dern Vegetables of Every Hue!
Cook 'em in a Dern Pot and Forget about It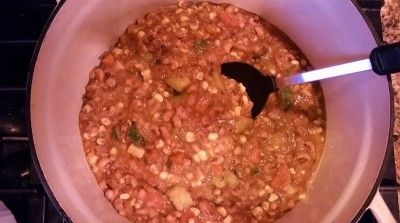 Call it dinner last night. That's right. I added beans (Black Eyed Peas actually) but everything else except for the garlic came from my garden. For every cup of beans, add 3 cups water. Add onions, garlic, celery if you have it) and bell pepper. Simmer on low, I mean low and forget about it, for like 3 hours! Then come back and chop up whatever you've got, tomatoes, greens, zucchini, butternut squash, radishes, beets, carrots anything at all! Simmer on medium-low for another 20 minutes. If you have corn you can shave that off the cob and add it in during the last 10 minutes of cooking. Season however you like. I used some Italian Seasoning from TJ's and pink Himalayan Salt and lots and lots of fresh ground black pepper.
Easy Ratatouille
Everyone makes a great big deal about Ratatouille but let us not forget that this is a humble dish that I'm sure originated when people had to use up their produce! In other words, it's a "throw it in the pot" kinda' dish not some precious thing for epicures! The trick for a good ratatouille is to try and get those various vegetables chopped up in uniform size. Your seasonings should be nothing more than Tarragon and/or basil, salt, bay leaf (if so inclined) and garlic and shallot if you like. Ample use of onion is also recommended. Now, start with the onions, and your already perfectly chopped veggies into the pot in the order in which they cook. Obviously a carrot will go in before a zucchini, a potato before a tomato and on and on. Just add stir once and put the lid back on. It also helps to have a nice glass of wine there counter-side as you wait to add the next ingredient. Serve with crusty bread and the rest of that wine!
Now Eat Your Veggies!
Until later!