Does that sound weird to you? I thought I was the only person on the planet who knew just what cottage cheese could do to an omelette but nope, I just found out my friend Martin has long-known the wonders of the cottage cheese omelette. Being a great, filling and protein-rich foodstuff, cottage cheese is any dieter's friend. I guess that's what prompted me to throw caution to the wind and whip it up with a few eggs and add some mustard for good measure. Well that was many years ago. I've since forgotten the diet, added parmesan, and I always make it with lots and lots of spinach. Think of it as a stovetop quiche of sorts but much fluffier.
You can throw it together in 10 minutes flat.
Recipe:
6 eggs
3 ounces fresh parmesan or pecorino cheese, grated
3 heaping tablespoons low-fat cottage cheese
3 tablespoons olive oil
1 tablespoon mustard
Directions: Heat pan on medium low heat. Beat the eggs lightly, just enough to combine. Add cottage cheese and mustard. Beat lightly making sure the mustard disperses well. Add one tablespoon oil to pan. Add freshly washed and shaken spinach, still wet is great. Cover with lid for 2 minutes or until wilted. Uncover and drain excess liquid from pan if necessary. Add remaining oil. Arrange spinach so it's evenly dispersed on the bottom of the pan.
Add parmesan cheese and lower heat to low. Wait one minute. Pour in the omelet mixture.
Cover with lid for 3-5 minutes or until it looks like this.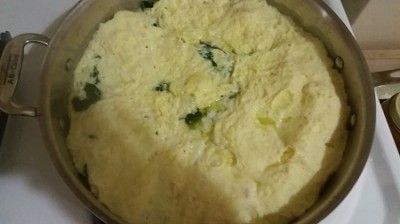 Remove lid and turn the heat back up to medium low. Cook uncovered for 1-2 minutes, then flip. If flipping it proves difficult, which it sometimes does on stainless steel, just slice it in a cross formation and flip each section separately.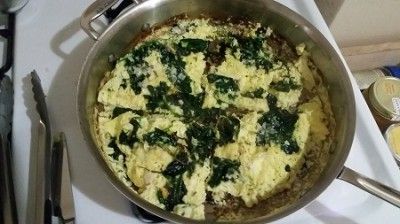 Top with more parmesan and plate. If you want to serve with potatoes just the way I did here, just toss them in olive oil and sprinkle on a little salt and roast at 400 degrees for just about twenty minutes. I plopped them into the oven prior to making the omelette, along with few Italian pork sausages from my butcher (not shown) and I had dinner done in less than a half-hour, no kidding. I like to serve with either sliced tomatoes, roasted peppers, or cool avocado.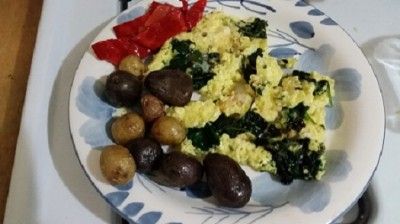 Happy Eating Everyone! Until next time!