I was recently on the hunt for some old recipes from the 1800s. The objective: find a few old-time recipes worthy of being brought back today. One such recipe I found was called Indian Pudding or Hasty Pudding with the main difference between the two being that the later version called for wheat berries as well as cornmeal.  Today, versions of this dish are still common to certain families in New England and a theatrical society at Harvard bears the name since it's founding, back when the club's formation had everything to do with eating pudding and less to do with drama.
Looking for something slightly spicy, different and very comforting for the Thanksgiving or Christmas table this year? This dessert has loads of cinnamon and ginger flavor and a texture that's firmer than a moist bread pudding. The flavor profile will pair well with butterscotch, maple, rum or honey. Flashback to the 1800s and discover how different traditional can be.
Recipe
Ingredients:
5 1/2 cups whole milk
1 cup (packed) golden brown sugar
3/4 cup yellow cornmeal (medium or fine ground)
3 tablespoons molasses (dark)
2 tablespoons ground ginger
2 tablespoons ground cinnamon
1/4 cup salted butter
2 tablespoons vanilla extract
1 cup raisins (optional)
Vanilla, Dulce de Leche, or Butterscotch ice cream
Directions: Preheat oven to 325°F. Butter 13 x 9 x 2-inch porcelain or glass baking dish. If you do not have either, aluminum is fine but reduce heat to 325°F and butter pan liberally. Pour whole milk into a 6 qt stockpot or any large pot. Heat to medium high and add cornmeal, brown sugar, molasses, ginger and cinnamon, stirring as you add ingredients. Whisk slowly until mixture thickens to a porridge-like consistency but can still be poured (see image). Remove from heat. Add butter and vanilla extract. Whisk to combine fully.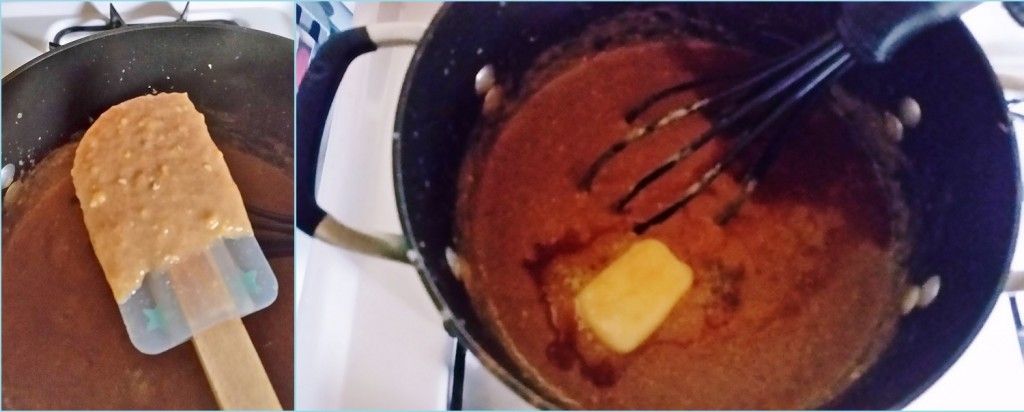 Pour mixture into pan and bake for 90-120 minutes. Baking times can vary greatly. Pudding is ready when it does not giggle in the center and is a deep golden color throughout.


Allow to cool for 15 minutes if you intend on serving it warm. Otherwise, allow to cool a full hour. The cooled pudding stands up better to slicing, while the still-warm pudding will spread out a bit. Top with ice cream and maple candy if desired.
Until next time…
Happy Eating!