#1 Have a Lot of Guests? Go Buffet!
If you've got plenty of guests coming to your holiday dinner, say more than 12, a buffet setup might be perfect for you.  Serve dishes on a sideboard or bar area where people can help themselves to seconds and thirds.  If you simply must do the traditional sit-down dinner, why not serve popular dishes like your famous yams in two or three dishes, placed around the table instead of one?  When you carve the turkey, pass one plate to the left, another to the right to the other end of the table to minimize pass time.
#2 Say Yes
Listen for the magic words: "is there anything I can bring?" You'll probably hear this from a seasoned cook or host who's aware of just how chaotic hosting a holiday meal can be.  They want to help. They also know simply bringing over a huge bowl of mashed potatoes or string bean casserole isn't necessarily appreciated by cooks with a specific menu in mind.  Sure, there'll be Aunt Edna or Uncle Charlie with their signature pies, pot roasts or wings, but take advantage of when people offer to bring stuff over.  If you were thinking succotash might be nice, tell them!  Maybe they can bring a pie, cut fruit, cookies or how about a few appetizers?  If you want to handle all the food yourself, great, then how about asking them to bring over a few video games to keep the kids occupied when it's the grown-ups' time to be merry?  Do you usually need to run to the store on the day of the dinner?  Put one of these do-gooders on notice, tell them to plan on running to the store prior to the party because you're likely to need something.  They'll appreciate the fair notice.
#3 Get Veg
Holiday meals can be very rich, so it's a good idea to have a leafy green salad as well as two different vegetable sides.  If one is rich, make sure the other is relatively low in fat and fresh.  If you're serving creamed spinach, sautéed broccolini tossed in olive oil is a lighter option that's ready in a cinch.  Skinny, blanched carrots and pearl onions, tossed lightly in molasses and fresh parsley, are a lighter option you can serve alongside the green bean casserole.
#4 Give Helpers Specific Tasks
Professional kitchens work well only because of the brigade de cuisine, a system of hierarchy, developed in France during the 1890s.  In this system, everyone has a specific job to do.  The saucier works solely on sauces and hors d'oeuvres and the rôtisseur is in charge of roasting and broiling the meats.  Assigning such titles might be overkill, but it might be fun to give it whirl.  In any case, use the principles of the brigade and assign helpers (even the youngsters) with specific, appropriate tasks.  They'll feel good about helping, and you'll have some control over who does what.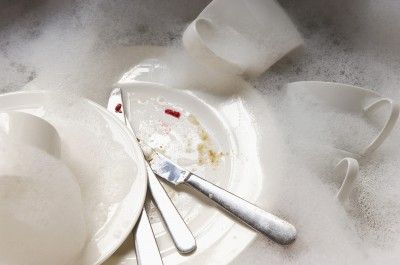 #5 Clear in Stages
Go to any banquet hall, wedding reception or gala and watch the service. You'll see they clear in stages.  First they'll collect all the cutlery, then the long-stemmed glasses, then the plates.  By removing dishes in stages, they can rinse and wash accordingly and then put everything away.
Apply what chefs, caterers and food service people do as a matter of practice and you'll find it's easier to deal with cleaning and sorting when the work is done in an organized manner.  Want to really make things easy?  Have a tub of sudsy water ready to go and plop the greasy baking dishes in the water as you go. Line multiple trashcans and feel free to bring them to the table to make it easy to scoop off the leftovers and crumbs directly into the trash.