Ice cream, ice cream, who wants ice cream? Everyone right! Okay, lactose intolerant people aside, isn't there just something wrong with people who say they don't like ice cream?! I mean what's wrong with those folks!
All joking aside, I take my ice cream quite seriously. I mean I have the stuff at least 2 to 3 times per week. I frequent all the better ice cream and gelato shops in my area, in my friends areas too, and I make the stuff A LOT, especially during the summer months. So what's new in the world of ice cream? Alas, there are some nice new flavors, well at least they're new-to-me. Maybe they're new to you too!
So, to make things easier, I'm running through the mixture i.e. flavor that you will add to your base. My standard ice cream base recipe appears near the bottom of this post. At times, you will have to subtract out the cream or milk that would have gone into the base from the recipe, since it's already part of your mixture. Trust me, it's not rocket science. It makes sense as you read through it. Also, I'm a big proponent of tasting as you go when it comes to ice cream. So feel free to adjust these as you go, adding a bit more roasted apricots, a bit less figs, a teaspoon vanilla, a spritz of lemon, a little balsamic, who knows the world is YOUR oyster! Just get in there and make it! For those of you who, sadly, do not have an ice cream maker of your own (boo-hoo), I've added a link at the bottom of this post for making ice cream without a maker. I haven't tried it myself but I've whipped up "pretend ice cream" in my blender with a little cream and sugar at least a dozen times. So there you go. Have fun!
Honey Lavender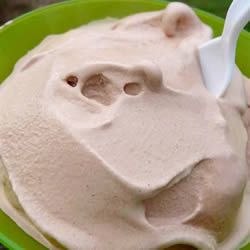 This is perfect for that sophisticated dinner you're making for your boss or that oh-so-literary friend of yours. Serious and delicious and oh-so-sophisticated, how will you ever get over yourself once you've made it!
To make: Place 1 cup whole milk, ¼ cup dried lavender (for cooking) and 1/3 cup high-quality honey in saucepan. You'll need another 1/3rd cup honey too, for later! Heat on medium low, stirring with a whisk. Allow mixture to get hot but do not let it boil. To keep this from happening, you can simply lift the saucepan off of the heat the second it starts to rise and continue whisking. Do this for about 10 minutes. You should smell the lavender start to release into the milk. Then, remove from heat to a cooled burner and cover to let mixture rest for 30 minutes. Sieve through cheese cloth or fine sieve. Deduct 1 cup milk from standard ice cream recipe below and also ¼ cup sugar. Add in an additional 1/3 cup of honey, which you can stir into the mix when you place in in the ice cream maker. This will leave you with delicious swirls of honey.
Strawberry Rhubarb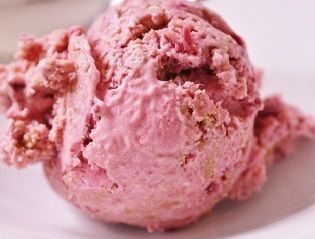 Rhubarb is the new darling of the food world. In this recipe, she shacks up with her usual compadre, Strawberry, since their flavors work especially well together but any sweet berry (as long as it's plenty sweet) will work fine.
To make: I say roast the rhubarb (1/2 lb.) and the strawberries (1 ½ lbs.) for real, full-flavored rhubarb ice cream! First, you're going to want to de-string that rhubarb just like you would celery. Then, slice into 2 inch long segments, place on a parchment lined pan and cover with honey or brown sugar. Halve strawberries and place on a different parchment lined pan. 375 degrees for 15/20 minutes ought to do it. Let cool and then process in food processor until dissolved. If you're picky about clumps, sieve through a strainer. If you like clumps, blend rhubarb first since you'll want that more dissolved than the strawberries. During the mixing process, add two drops red food coloring if you're so inclined.
Fig Apricot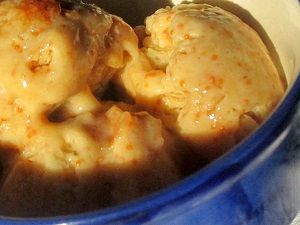 Yup. Fig and apricot are great together! You might even want to swirl in a little honey and add a hint of vanilla to the batch for some truly heavenly ice cream. Wondering who makes this stuff? Asides from myself and my aunt Edna (not really her name) I can't say I've seen it in any of the ice cream shops I frequent. Maybe someone will read this post and catch on. If so, email me and I'll be there asap!
To make: You're going to want really great, potent apricot syrup and ditto for the figs. So how should you do it? I get 'em when they're really ripe and roast the suckers! That's right. Remove the hard tops and bottoms of those figs with a paring knife. Slice them in half and place on a pan that's lined with parchment paper. Don't bother peeling off anymore of the skin. For the apricots, most of you will want that skin off since it can get a little bitter and will change the texture. Peel, and slice those apricots into eighths. Place on a pan with parchment and roast and cover with about two tablespoons brown sugar. Sure you can roast the figs and apricots together, but I suggest doing them separately so you can roast each until they're perfectly caramelized. Approximately 375 degrees for 17-25 minutes.
Let cool complexly, then refrigerate. Once completely cool, pulse figs and apricots in separate batches. Combine teaspoonful amounts of each until you get the desired taste. Once you've got your ratio figured out, mix the rest and build your ice-cream from there. See cheater's ice cream recipe below.
Salted Brownie Caramel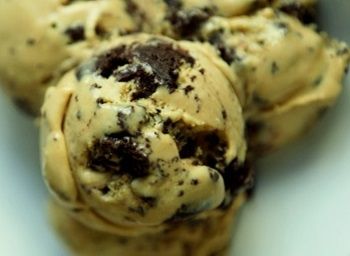 I love, love, love me some chocolate ice cream and when it comes to making Salted Brownie Ice Cream you might think a chocolate base will probably make it about as good as it can be but I've found, and yes it hurts me to say this, too much chocolate can take away from everything that's going on with the brownies and caramel. Instead, a nice caramel base ice cream, salt, and chunks of brownie mixed in at the last minute really makes for an amazing salty caramel brownie explosion in your mouth.
To make: Heat 1 cup sugar in a dry 10-inch heavy skillet over medium heat, stirring with a fork or metal whisk to heat sugar evenly, until it starts to melt, then stop stirring and cook, swirling skillet occasionally so sugar melts evenly, until mixture is a uniformly dark amber color.
Add 1 1/4 cups cream, leaving 1 cup cream aside (mixture will splatter) and cook, stirring, until all of caramel has dissolved. Transfer to a bowl and stir in ½ teaspoon sea salt and ½ teaspoon vanilla extract. Cool to room temperature. Once your mixture is cool, build your ice cream base, using the remaining 1 cup of cream and eggs. Stir in teaspoon sized bites of room temperature brownie once the mixture has set in the ice cream maker for 2-3 hours.
Strawberry Buttermilk

For the base, replace whole milk with buttermilk. Use very ripe strawberries. If they are not ripe, roast them with a coating of brown sugar to enhance the flavor. Use cups of fork-smashed strawberries. That's right, smash them with a fork and then plop them in the food processor for a second. Reduce on medium heat for 15-20 minutes with ½ cup granulated sugar. Let cool to room temperature, then refrigerate. Follow ice cream recipe below after that. During the mixing process, add two drops red food coloring if you're so inclined.

Standard Custard Ice Cream Recipe
•1 1/4 cups granulated sugar
•2 1/4 cups heavy cream
•1 cup whole milk
•3 large eggs
Bring milk cup cream, and remaining 1/4 cup sugar just to a boil in a small heavy saucepan, stirring occasionally.
In a medium bowl, lightly whisk eggs. Slowly add half of hot milk mixture in a slow stream, whisking constantly. Pour back into saucepan and cook over medium heat, stirring constantly with a wooden spoon, until custard coats back of spoon and registers 170°F on an instant-read thermometer (do not let it boil). Pour custard through a fine-mesh sieve into a large bowl. Now you can combine additional ingredients and flavors.
Chill custard, stirring occasionally, until very cold, 3 to 6 hours. Move frozen custard to ice cream maker and follow manufacturer's instructions. Then remove and transfer to an airtight container. Some mixtures will need more time to firm up.
Alternate Ice Cream Methods may be found here.
Happy Eating Everyone!!!!