Tired of the same ol' sweet and sour? Well there are so many wonderful sweet and sour ingredients to pair, most of which we use all the time. Check out these ten suggestions for getting that oh-so-sweet and sour, mouth-popping experience.  Kick those taste buds into high gears and enjoy!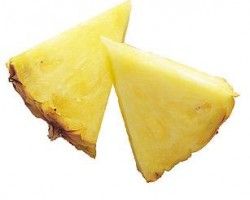 #1 – Crushed pineapple, tomato paste, brown sugar and Sriacha to taste
These four ingredients combined are great for anything from meatballs (vegan tempeh too) to sweet and sour chicken. Add cornstarch or flour if you're battering and frying. Crushed pineapple will combine easier and give a more uniform appearance and sweetness, meaning you can cut down on the brown sugar if you go with the crushed, while cubed pineapple can make a nice fun addition to that pot of meatballs. Not sure which way to go? Use both!
#2 – Toasted sesame seeds, sesame seed oil, pickled ginger
Terrific on anything from squid to cold soba noodles, the layering of sesame oil and sesame seeds provides wonderful depth which sings with the addition of pickled ginger. If that isn't enough add a few green onions to the mix for a refreshing concert of flavor.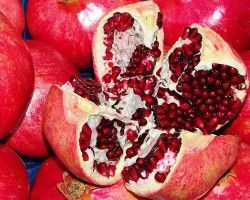 #3 – Pomegranate molasses, fresh pomegranate, tangerine wedges
Believe it or not, pomegranate molasses is surprisingly deep and earthy in its flavor. As such it makes a terrific base for pomegranate seeds which pop when they're layered against the pomegranate molasses. To further hit that high note, pair with super ripe, super sweet-tart tangerines. From roasted duck to a refreshing salad, this is a flavor combo you'll never tire of.
#4 – Black garlic, ginger, orange, honey
Umami lovers will flip at this combo! These ingredients work perfectly with any savory meat dish. You can make a divine pot roast using all four ingredients but in lieu of fresh orange, use orange zest. Vegans and vegetarians will find their umami cravings met when they use these ingredients with any kind of Asian noodle, grain, tofu, tempeh or any vegetable with a mild flavor profile like string beans, asparagus, green beans and most squash.
#5 – Fresh ginger, brown sugar, orange juice
These ingredients make a great marinade for fish or chicken as well as a nice dressing for a crisp, cold salad (just add a bit of olive or sesame oil). Pairs nicely with cucumber. The more you muddle the ginger, the greater the zing. Add lemon for even greater kick.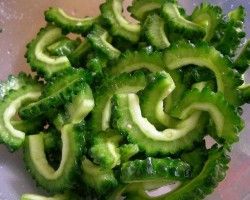 #6 – Bitter melon, sweet red bean paste, Tamari, turmeric
Want to make a truly exotic tasting pork tenderloin? Then parboil that bitter melon, remove the seeds and mash it up with a mortar and pestle, add bean paste and mash some more then add in one or two cloves of garlic, fresh ground turmeric powder, and Tamari soy sauce to taste. Coat pork liberally with this stuff and roast it, fatty side down at 400°F for 30 minutes. Turn the tenderloin over so that it's fat-side-up.  Roast about 25 minutes longer or until thermometer inserted into the flesh reads 155°F. Remove from oven, cover loosely with foil and let it sweat for 10 minutes.
#7 – Lemon, soy sauce, maple syrup
Got pork chops and want to try something different? Well marinade them in 2 parts water, 1 part soy, 1 part maple syrup and hit them with a bit of lemon once they're off the burner. For an amazing sauce, worthy of the best duck, add a little thickener and reduce over low heat . The reduction is also a perfect topper for skewered beef kabobs (dip after grilling and pop them in a 400 °F degree oven for 1-2 minutes to cure.
#8 – Sweet red beans, fried garlic, green mango
This is inspired by a course I had at the opening of a new restaurant in Los Angeles about a month ago. It was a tasting menu only sort of thing and these ingredients comprised course #3. The red bean paste was combined with gelatin and sliced into smallish cubes, served with smaller cubes of green mango that had been fire roasted, so that it was hot on the outside, cool on the inside. The whole thing was then topped with crispy fried garlic and an eel sauce. Truly outstanding! I plan on recreating some version of the dish, incorporating a nice seared ahi tuna into the mix.
#9 – Sweet red bean paste, ketchup, cilantro
This combo makes an excellent topping for short-ribs, just lather it on immediately after grilling or roasting.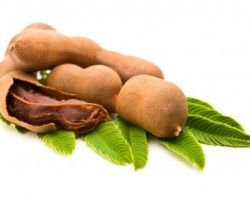 #10 – Tamarind, pineapple, ginger
Try this as a chutney and you'll make it over and over again. The earthy, sour character of the tamarind is brightened up by the pineapple and the ginger just make your mouth pop. For ease of use, try tamarind paste which you can find at most Mexican or Hispanic markets. This combo will definitely steal the show so whether you're pairing with fish or chicken or are using these ingredients in a salad or starter of some sort, plan accordingly because these three together are definitely a show stopper! Want to mellow it slightly or make into a marinade? Try coconut milk.
#11 – Banana leaves, plantains, rice vinegar
Sure I said ten then I realized I'd left out one of my faves. Fish lovers–banana leaves are about the best thing you can do with any and all whitefish. Simply season with salt and pepper on both sides, wrap in two banana leaves with the inside of the peel touching the fish (use a toothpick to secure) and grill on low heat for 4-6 minutes or, if it's too cold to grill, throw it in a glass baking pan with about a centimeter of water on the bottom of the pan and bake at 325°F. When it's done, open the banana leaves and season the fish with a little rice vinegar, maybe a dab of butter or a few scallions of you're so inclined. For a truly Caribbean experience, serve alongside cooked plantains.
Want to know how to get the most out of the sour and the sweet without going overboard? Check out this fun blog post with visual diagrams to help you balance out the various flavors in your dish.
Until next time! Happy Eating!