Fall is upon us and soon there will be so much cooking and baking to do! No matter whether you're looking forward to it or have that little bit of dread, like I do, these time-saving, budget-friendly gadgets and appliances are sure to be a help. I know some new kitchen gear always gets me smiling as does that cooking sherry.
Tired of cleaning out those crusty, caked-on muffin pans? If, like me, you wanted to get the silicone ones but were put off by the steep price tag, today's your day! Grazia, a Spanish manufacturer of culinary products, makes high-quality 100% food grade silicone muffin pans. Reviews for their product and customer service are excellent which is always nice to hear in this day and age. Amazon reviews mention being able to make paleo-diet egg muffins in these which, because of their zero-gluten content are especially hard to get out of traditional muffin pans. Cupcakers are raving about these too. At just $20 a pop they're a nice present for you or a beloved baker. The Grazia muffin pan has 12 cups per pan with cup capacity of 3.5 ounces (the standard size). They also make one for mini-cupcakes, also $20.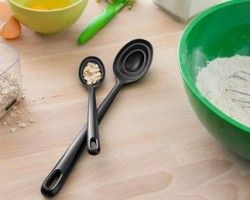 Talk about an ingenious time-saver for just $10! Quirky, that company that was started by a 20-something-year-old and that's changing the product-development industry as we know it, yeah that company, well they've got some cool stuff. With these spoons all you have to do is scoop, look and plop your dry ingredients in the bowl or pan or wherever. Bakers will love these as will any serious home cook. Why didn't they think of these sooner?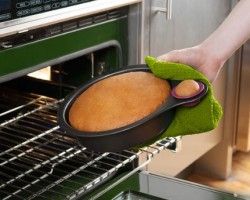 This invention is a tad more frivolous than the spoons but is sure to be loved by many a baker, especially those (like me) who can't wait to taste their creations. Got a kid who is adamant about tasting the cake before it cools? Make the mini-cake into a very special cake for one.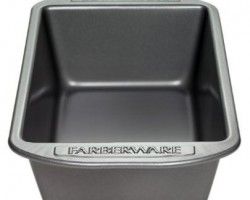 Farberware Nonstick Bread Pans
Sure there are silicone bread pans on the market but those can wobble. These high quality, non-stick bread pans are perfect for pumpkin, banana, zucchini and yes—meatloaf! Grease them up with just a little oil, butter, or shortening and you're good to go! To maintain the nice coating, do not scrub with anything abrasive, just use regular dishwashing liquid. A soak is much better for these than any amount of scrubbing. Dry them off after washing and they'll last and save you the frustration of having to knife your way around the pan. They're around $5 each at Amazon.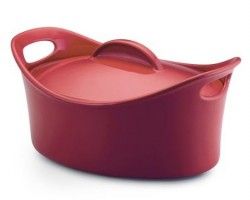 The Rachael Ray Stoneware Casserole Dish
The vast majority of people who bought one of these seem to love them. At four and a quarter quarts, it's great for big family dinners and it's a stellar looking dish, especially in oxblood red. That said, there were a couple one-star reviews on Amazon due to cracking. I'm going to wing it and buy one for myself anyways. At $34 bucks it's basically worth the risk, for me at least, and I like that it can go from straight from the oven to the table. Bear in mind, this is NOT a Dutch Oven. This casserole dish cannot go from stovetop to oven, in fact it cannot be used on the oven at all. That's fine for me but for Nana's pot roast, I'll stick to my knockoff Le Creuset.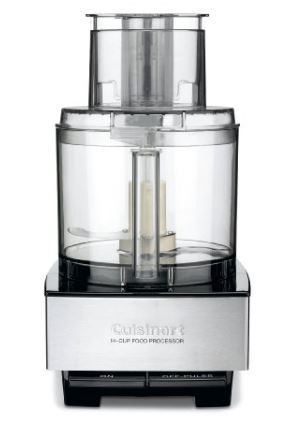 Cuisinart DFP-14BCN 14-Cup Food Processor, Brushed Stainless Steel
Not all Cuisinart's are the same. If you've got to make cookies, whip up dips, dice, crush and even make pizza dough, this 14 cup capacity food processor is a good buy at $175.00. Will it make smoothies? No. Will it make soup? Only in small batches. Note, for soup an immersion blender is probably the best way to go. But if you find yourself making pie crusts, crushing nuts and constantly needing to chop up vegetables for whatever you're making, the Cuisinart DFP-14BCN is easy to clean, sturdy but lightweight enough to store in a cabinet. Nevertheless, in brushed chrome it's handsome enough to sit on the countertop. FYI, some of the blades from older models are said to work with this model too.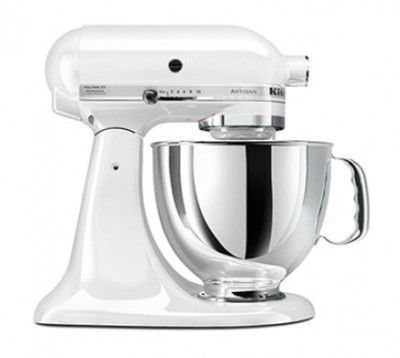 If its common-knowledge you bake and you're on a budget, then this is probably the way you want to go. For $330 it's not cheap but won't break the bank either. It's nice looking too. At twenty-two pounds, it's heavy as well so only opt for the KitchenAid Artisan if you're planning on leaving it on the countertop.
The five quart capacity is a nice size that enables you to make four batches of cookies at once or put together enough for eight pie crusts. Whipped cream is a no-brainer with this, as is creaming butter and sugar to perfect consistency. The hook will knead pizza dough and bread too but if you're making many loaves of sourdough at once, maybe a heftier model is right for you. The three dishwasher-safe, nylon-coated attachments included with the Artisan are a paddle for cookies, icings and some cakes, a dough hook for kneading yeasted bread dough, and a wire whip for whipping cream and for incorporating air in cream and eggs mixtures.
Unlike most other KitchenAid mixers, the Artisan does not have an upright locking head feature. Those models require two hands to raise and unlock the mixer, whereas the Artisan does not. This is actually a huge time saver since you simply have to use one hand to raise the head and the other to throw in those nuts, raisins or chocolate chips. Once you lower the head, you can put the head-lock on if you're kneading a piece of dough or anything that's a bit more dense in texture. More great info on this model.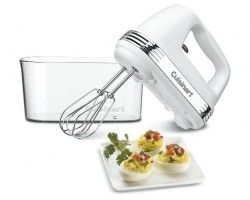 Cuisinart HM-90S Power Advantage Plus 9-Speed Handheld Mixer with Storage Case
Not into the KitchenAid? This hand-held mixer has a whopping 220 watts of power and very nice functionality will make whipping up those cakes a breeze! The attachable snap-on clear compartment case is a handy way to keep all the attachments together which include beaters, a chef's whisk, dough hooks, spatula and even an instruction/recipe book. Sure there are less-expensive models out there but once you consider the reviews that speak of the magic of the Cuisinart HM-90S's precise three-speed settings and the stellar job it does at mixing, making that decision should be a piece of cake.
Well I hope you've enjoyed the run-down of the best time-saving kitchen gadgets that will go easy on your wallet. As always, before making any purchase, consider how often you use any one gadget or appliance in the kitchen. For my friend Sarah, a KitchenAid was pretty much a no-brainer since she bakes all the time. As for me, well, I'm sticking to my hand-held mixer but I do have my eyes on a very nice immersion blender. More on that later.
Happy Eating (and cooking)!