Weekly Newsletter
Issue #301
Sangre, Sudor, y Lágrimas
BY Julian Wildhack

Photos by Paloma Pierini
Mercedes Cerouno is Jefa de la Cocina at Rawseta in Buenos Aires.
I met Mercedes, also known as DJ Farsa, in the B.A. club scene, at her third job–a cute and modern cafe named Estudio Té Café. The day was blisteringly hot, but as the cafe was spilling over with customers, we decided to brave the sun and blasting traffic noises, in favor of the space and relative privacy the sidewalk seating allowed us.
"Ooof," she said, sitting down and fluttering her t-shirt. "It's bad out." Mercedes is gorgeous and strong looking; a red bandana and a flex away from a Rosie the Riveter facsimile. Her smile, however, is disarming, and lets you know she'd rather chug a beer with you than kick your ass. Despite having just ended a 12-hour shift, and working a 14-hour shift the day before with only a couple hours of sleep in between–she danced around, trying to make me feel comfortable. "You need anything? Iced Coffee? Water? Facturas?"
Mercedes started cooking back in her home city of Santa Fe, north of Buenos Aires. "After I graduated high school," she said. "I went through a kind of aimless phase. I started working for my mom. On weekends she was selling empanadas to make more money. She asked me to help and taught me the basics. It turned out I was really good at making them. I brought in a lot of new customers."
A vegetarian since the age of 16, she began making the empanadas with exclusively plant-based ingredients. At first, this was not a selling point for a meat hungry Argentinian population, but her food's flavor and quality kept growing her customer base, despite the lack of traditional protein sources.
"People think that plant-based food is boring or that it has to imitate meat," she explained. "But, vegetables have flavor. Fruits have flavor. People were receptive to what I was cooking because it was full of flavor. They discovered that plant-based food is something that can be enjoyed."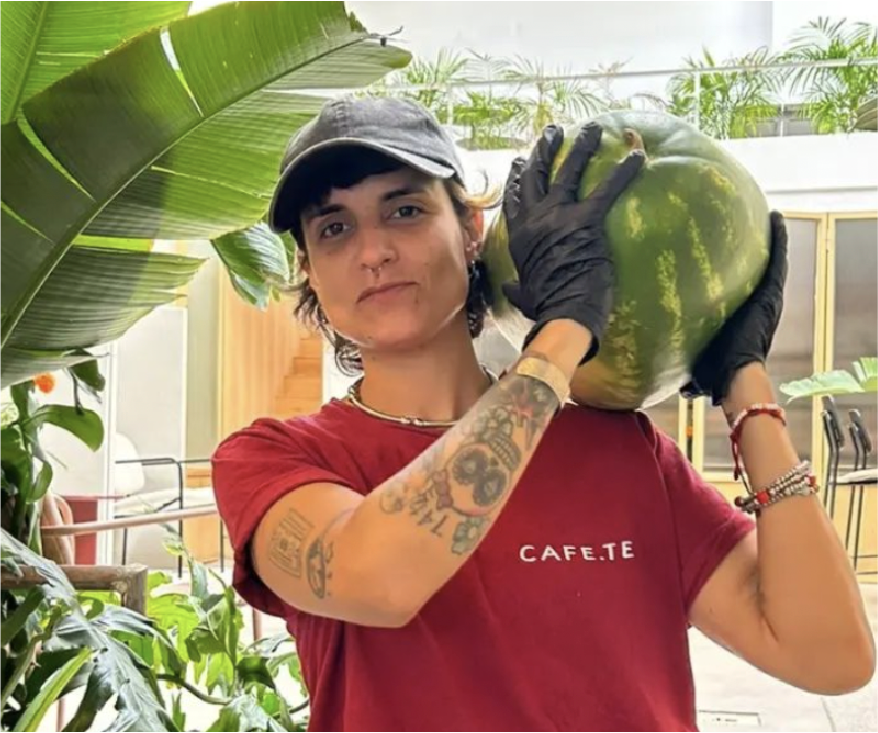 Last year, she made the move to Buenos Aires, a culinary capital in Latin America, with a large young and progressive population.
"Did you move here for the budding vegan cooking scene?" I asked.
"'Plant-based,'" she corrected me. "Not 'vegan.' A lot of vegan food is just junk food. Veganism, at one point, was a disruptive concept, but now it's industrial. It's about commerce and profit. Veganism should be about empathy, not just for animals, but for workers and the planet. Plant-based and organic go hand in hand. These ingredients have nutritional power and [are delicious]."
"Well," I said. "Did you move here for the 'plant-based' culinary scene?"
"Yes," she said, flashing that just-f@#king-with-you smile. "In Santa Fe I would watch from afar, following all these places on Instagram. I was like, 'I would love to go eat there.'"
Buenos Aires, in opposition to the Argentinian tradition of steaks and charcoal smoked meats, is having a revolution in plant-based and mostly plant-based cooking. Restaurants high and low, like Chuí, Fifí Almacen, and Múdra bring in throngs of hip adventurous diners, many who do not identify as vegetarian or vegan. "The plant based food culture is amazing here," Mercedes said. "The options aren't boring."
After arriving in the city of tempeh dreams, she shopped around for possible restaurants to start working at. She discovered Rawseta and fell in love. "I was like, 'I want to work there.' And the next day I had the interview. It was fate."
Rawseta is about 60 percent plant based, with options for the meat eaters in your crew. Executive Chef Facundo Acevedo leads the team and the restaurant shares space with Art Lab, an event space and social club. "It's a society," Mecedes said. "I don't really know of anything like it: a restaurant that's part of a cultural space. It's a [harmonious pairing]. The club is excellent. The sound quality, the [caliber] of the artists they book, the lighting, and VJ installations. It's an avant garde audio visual experience [that parallels our avant garde culinary experience]."
There's a lot of wisdom in traditional Argentine cooking, and she doesn't want to throw the baby out with the bloody steak water… "I love fire!" she said. "If I can grill it, I grill it. I like to take a traditional dish and approach it from a wholly different perspective, instead of just trying to imitate an experience of eating meat."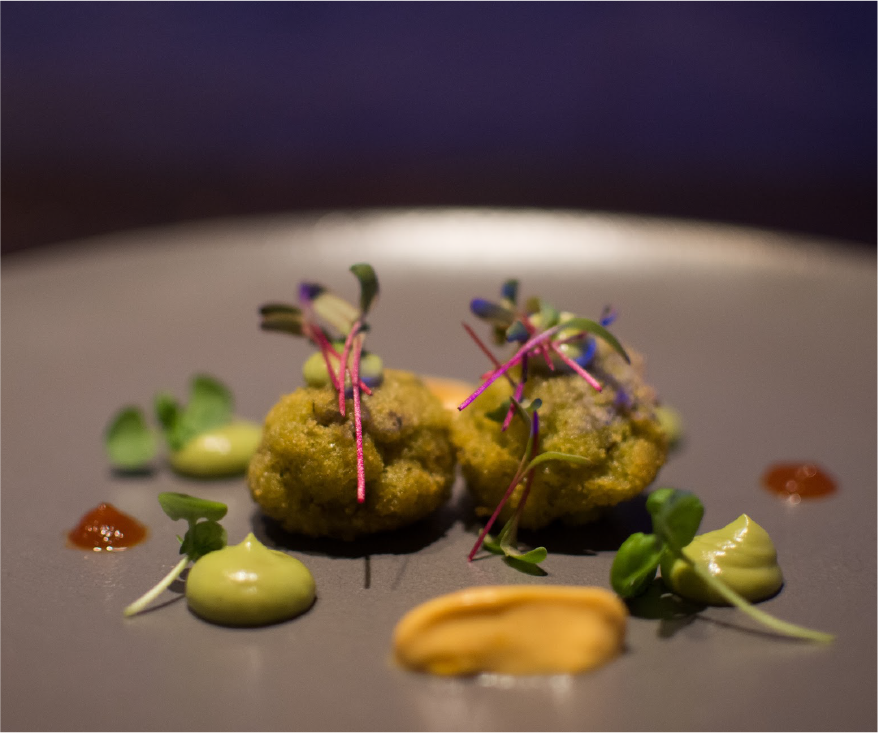 "Have you really worked 25 of the last 28 hours?" I asked.
"That's why my face looks like this," she said, gesturing to her non-existent eye bags. "I'm tired, I'm really tired. But I'm learning a lot, and I'm grateful for the opportunity to be involved in these beautiful places."
"I'm tired, I'm really tired. But I'm learning a lot, and I'm grateful for the opportunity to be involved in these beautiful places."
While chefs and kitchen workers world-wide know grueling hours and scant pay, Argentinans have it particularly bad. Mercedes can easily expect to work 65 hours a week for around USD$150. In a city comparably expensive for locals to Chicago, the economic pain is real, especially when the country's notorious inflation is taken into account.
"The economy is really f$#ked up," she explained. "It's hard for us. We work a lot, but it's hard to get by with the money you make. From one month to the next the price of everything rises. Salary cannot rise with inflation. It's impossible. I'm 33 years old, I work my ass off, and I'm stuck renting a small room. Everything I see is sacrifice. I've decided not to have kids, I have to take care of myself first."
"It's crazy!" I said. "I've noticed most restaurants don't even list prices, because they change so often."
"It makes life a rollercoaster," she said. "At Té we list our prices and try to keep them as long as we can. We want to limit inflation and keep customers. This whole thing is a chain reaction, but I don't know who started it."
Rawseta, like many fine Argentine restaurants, does not operate on a French Brigade hierarchy, but instead emphasizes teamwork, egalitarian effort, and flexibility.
"I'm Jefe de la Cocina," she explained. "But, I'm not above anyone else in the kitchen, I just have more responsibilities. If I don't do my job, nobody can cook. I have to be able to do everything–from inventory to handling reservations. I also take out the trash. My job is to make sure the kitchen is perfect, whatever that requires. Everyone has to be trained at every station. If the chef can't be there, we still have to be able to operate. It's a restaurant, not a person. We have to make it happen."
"Do you think you face any obstacles being a woman in the kitchen?" I asked.
"It can be hard for a woman. It can be hard for [queer people]. [It's easier] in plant based cuisine. Probably 80 percent of the vegan population are women."
"Do you feel like you need to prove yourself more as a woman?"
"No," she said flatly with a laugh. "The results speak for themselves. If I'm not doing my job, you'll know it immediately."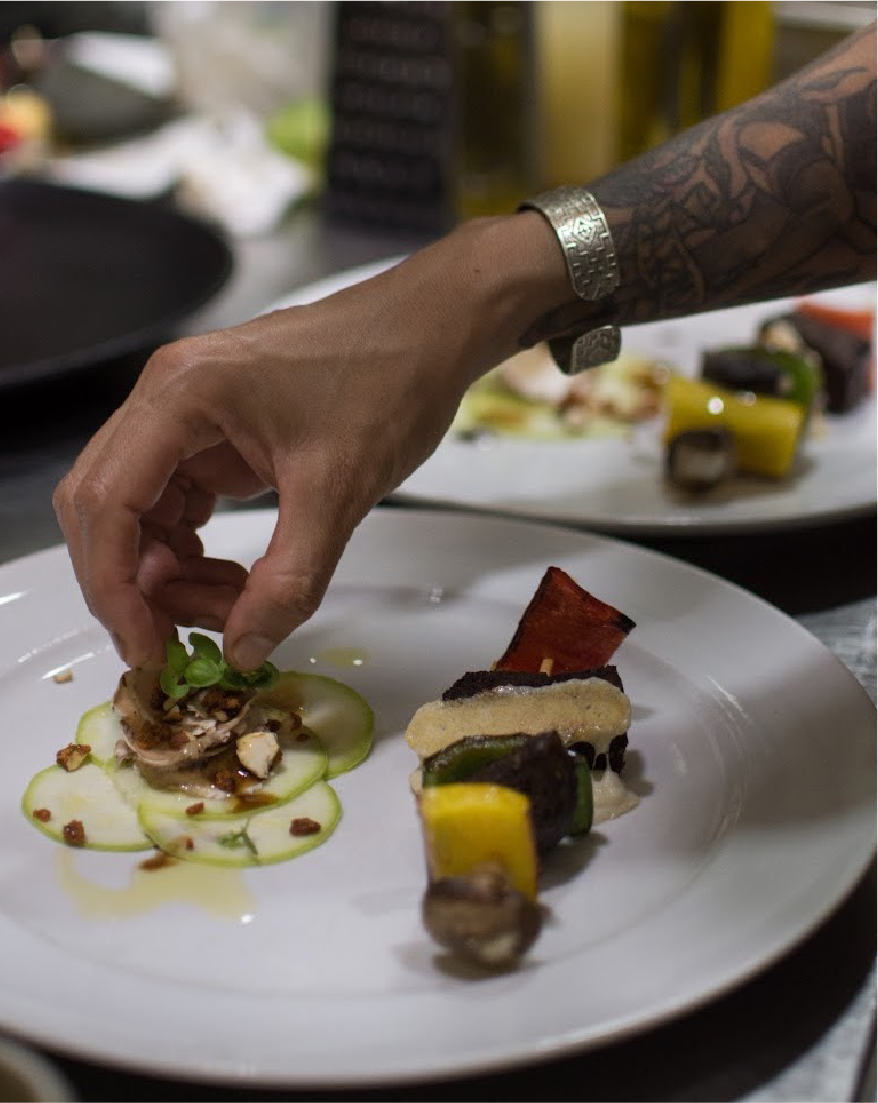 Despite the economic instability of Argentina, Mercedes wouldn't want people to get the wrong impression of her sprawling, exciting, cultured, and resource-rich country. "People consider Argentina a 'third-world' country,'" she said, eyes rolling back, annoyed. "But we are ahead of most countries in terms of civil rights. In general, we stand up for people. There's a stereotype that we are lazy, but we work hard and party hard. We have big dreams for our future."
"There's a stereotype that we are lazy, but we work hard and party hard. We have big dreams for our future."
Mercedes, like Buenos Aires itself, emits a sense of boundless energy and potential. A few weeks after our interview, she invited me to her birthday party at Art Lab. Psychedelic video installations and rhythmic house music enveloped the dance floor. At its center was Mercedes—smile wild, whooping, hollering, laughing, dancing, punching arms, and passing out drink tickets—an hour after a 14-hour shift and six hours before another.