#1      Got Citrus?
Then you'll this reamer and sprayer gadget dubbed the Stem & Citritwist for those fantastic mojitos you'll be making! Developed by Quirky, the hottest new product company since Oxo, all you have to do is pop the Stem directly into a lemon the next time you want a little fresh lemon on that grilled salmon. The accompanying Citritwist is a grip-friendly reamer that helps you do an expert job of extracting all of the juice from just about any citrus fruit you can think of (except for maybe kumquats). Considering the high price of limes it's a good investment that'll help stretch that dollar of yours. While Citritwist is a great choice for anything that calls for citrus juice, if you're making a whole pitcher of OJ, you'll still want to opt for that good ol' orange juicer.
#2     Kabob-ing it?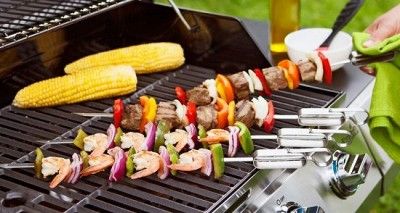 Love throwing stuff on the grill? Well whether its whole onions, jumbo shrimp or chicken kabobs these Slide and Serve Skewers will have you wondering, how come they didn't make this sooner? Look at the simple design of these things and it really is mind-blowing we had to wait until 2014 to see these come to market. These look just like flattened metal skewers. To use them just slide your meat, veggies or whatever onto the skewers and grill as you normally would. When you're ready to plate, simply grab the slider and slide the food right onto the plate. Most of us who grill pretty regularly have forever been using clean dishcloths, forks or whatever we have handy to slide our grilled foods off the skewer once they're cooked. This does just the same thing but with better results.
#3     Margaritas, Smoothies, Dips and Other Stuff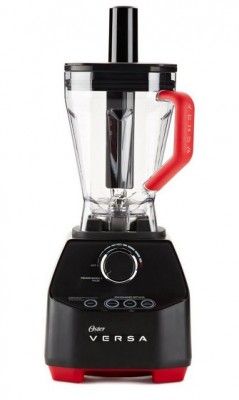 If you've been putting off buying that blender, now's the time to do it! Spring and summer are blender time and you're going to want something powerful and versatile enough to do everything from frappes and smoothies to gazpacho, hummus and maybe even a nut-butter or two.
If you don't have the bucks for a Vitamix the Oster Versa will do nicely for about half the price. Reviews across the board are very favorable. Cons are pretty minor but include a less-than-easy cleanup and uncovered buttons, meaning if you spill or splatter, stuff can seep inside the button holes. Nevertheless, it's the one I'm buying! See it here.
#4     Cupcakes for ALL!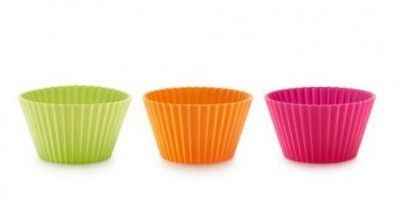 Yes that cupcake trend is still going strong and why wouldn't it? These easy, delicious cakes bring a smile to just about everyone's faces. Grab a pack or two of these reusable silicone cupcake muffin cups and you don't have to worry about greasing and flouring pans or wasting paper when you buy paper cupcake liners. These dishwasher-safe Lékué Large Muffin Cups bake beautifully (no pan needed) and cupcakes or muffins pop right out!
#5     Easy Veggies!
Okay, to be honest, if you're doing something fancy you probably don't want to use either of the following choppers. But if you're big on salads or are forever dicing onions, these choppers are great for casual, home-y fare and will save you beaucoup time. Alas, for those harder veggies like carrots and jicama, that good ol' mandolin slicer is still your BFF.
Chef'n VeggiChop Vegetable Chopper
*Pick #1 Chef'n VeggiChop Vegetable Chopper
*Pick #2 Prepworks GPC-4000 Fruit & Vegetable Chopper
#5     +How Pineapple-y are YOU?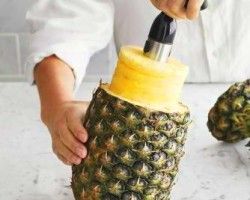 Okay, if a pineapple is a once-a-year kinda' thing this isn't for you. But if you love pineapple but hate spending 30 minutes at the sink to slice it up, this is for you! The OXO Good Grips Stainless Steel Pineapple Slicer is a corer and slicer in one that leaves the pineapple shell intact so you can use it as part of your presentation. Measurement markings on the OXO Pineapple Slicer determine your pineapple's height before slicing, making it easy to know when you're about to reach the bottom of the fruit. Gone are the days when you had to decide between paying 15 bucks for pre-sliced pineapple or sweating it out on the cutting board. With this thing, you can breeze through prep time and go ahead and make that pineapple sorbet, pineapple salsa, pineapple-bourbon punch, grilled pineapple kabobs etcetera, etcetera.
Well, I hope you had fun! I know I sure did! Now I'm off to get those mojitos made!
Check out more of Quirky's always interesting and often great kitchen gadgets at their
website. You can even submit ideas for your that kitchen gadget you've always wanted to make (and no, they didn't pay me to say that!).
Happy Eating!