Get Real World Experience and Personalized Training at Our Orlando Culinary School
Are you considering attending culinary school? Maybe you've been dreaming of becoming a chef and want to start pursuing your passion. But with so many options out there, it can be tough to figure out which school is right for you. The Orlando Chef's Apprentice School of Culinary Arts has the answers to your questions. You'll learn in a real-world kitchen environment under the guidance of an experienced chef, receiving one-on-one attention as you develop your culinary abilities.
So why wait? Take the first step to become the chef you've always wanted to be with the Orlando Chef's Apprentice School of Culinary Arts.
And what better place to learn about food than your hometown of Orlando? The City Beautiful has a vibrant and diverse food scene that caters to a wide range of tastes and preferences. Whether you're looking for international cuisine, local flavors, or innovative culinary experiences, Orlando has something to offer. Orlando's food landscape is constantly evolving, with a range of options to suit various tastes and budgets. Whether it's a food enthusiast or a casual diner, tourists and residents will find something delicious to enjoy in this vibrant city.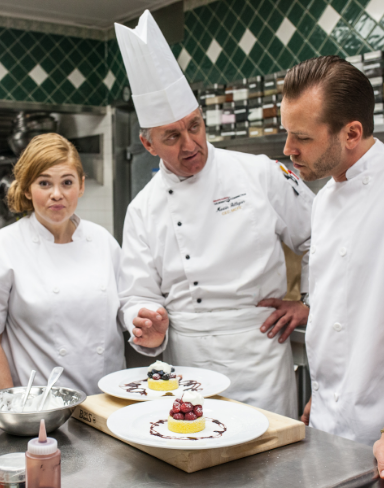 There are several advantages to attending the Orlando CASA culinary school. You'll be learning from inside the industry, a professional kitchen that's open to the public. Your mentor has years of experience with a variety of cuisines and will show you the ropes about what it takes to prepare food, run a kitchen, and how to keep the lights on. Most of all, you won't have to take on massive student loan debt or uproot your life to move to a brand-name university (and deal with those associated costs).
And why move in the first place? Orlando has plenty of top-notch restaurants to choose from to expand your palate. The Australian Kobe Beef at Victoria & Albert's is anything but Mickey-Mouse fare and The Ravenous Pig is a Michelin-Rated restaurant featuring "pig tails," fried dough curlicues served alongside chocolate espresso dipping sauce. The 4 Rivers Smokehouse was an Orlando Sentinel's reads pick for best BBQ and Cress Restaurant, located just outside of Orlando, is known for its farm-to-table menu.