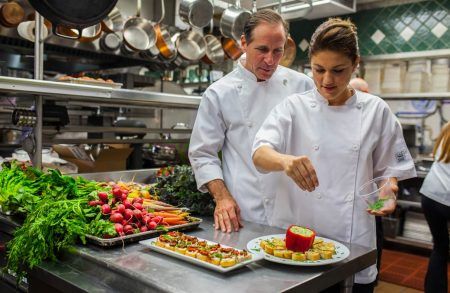 CASA, the
Chef Apprentice School of the Arts
, believes getting you learning from a seasoned culinary arts professional and building connections within the industry is a great way to launch a career as a chef, baker or restaurateur. Training directly under the very same professionals who do the work, day-by-day, is the commonsense, effective way to learn the skills you need to be relevant in today's job market. Our curriculums are written by experts in the field and are geared towards making the most of the time you spend as an apprentice/extern at the restaurant or facility where you train, enabling you to learn more in less time.
Take a look at our tuition and you'll probably notice our program costs significantly less than many other culinary arts schools across the country. Our one-of-a-kind, mentored-apprenticeship approach to culinary education makes it possible for us to keep our tuition costs low and keep you out of debt. Matching driven, hardworking individuals with experienced chefs to mentor them on the ins-and-outs of the craft, from inside a real, working environment is simply a much more cost-effective and time-efficient approach. In fact, apprenticeship, or externship, is still commonplace in Europe where many aspiring chefs do an apprenticeship or "stage" (pronounced "stazhje") to build their skills in the culinary arts. And did you know apprenticeship in the culinary arts predates the advent of the modern cooking school by hundreds of years?
Our goal is simple: to get you in the room with the people who can help you launch your career in the exciting world of food. The burden is on you to work hard, apply yourself and learn as much as you can. We are quite selective about the individuals we accept into our program because we believe many people simply do not have the initiative and go-getter mentality it takes to make it. If you are one of the few who are willing to go the distance and take your apprenticeship seriously, we want to hear from you, whether you have a stellar academic record or not, or whether you have many years of cooking experience or are relatively new to the craft.
Contrary to what many people may think, in the world of food, diplomas are not as important as real-world experience. Getting hired at a reputable restaurant requires experience, but you can't get that experience until you start working. If that sounds like a catch-22, it is. We enable people who want to break into the culinary arts to do just that by getting them in the door, right on day one. From there, it's their job to make the most of it by gaining experience and building connections which are the real ways people get work.
If you're completely new to the world of cooking, our structured curriculum can help get you on the fast track to work within the food industry. Culinary school graduates who are looking to refine their skills, gain real-world know-how or build connections can also thrive in our program as can hobbyists, food-industry entrepreneurs, foodies and just about anyone who is genuinely passionate about food.
Where do you want to be in six months?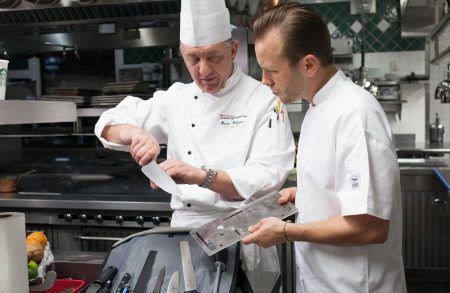 We believe passion is the key ingredient for a successful future in food. If you are seriously dedicated and make the most of opportunity, you will succeed.
Our mission at CASA is to help deserving individuals achieve their goals of pursuing careers in the culinary arts for less money and in less time. We believe massive student debt kills dreams and thwarts people's chances at future success.
Get a firsthand look at how CASA does culinary arts education differently! Before enrolling in our program, you will be able to meet your prospective mentor and interview with them as well as tour the restaurant or kitchen where you will complete the externship portion of your training with CASA. To learn more, contact one of our helpful Admissions Representatives.