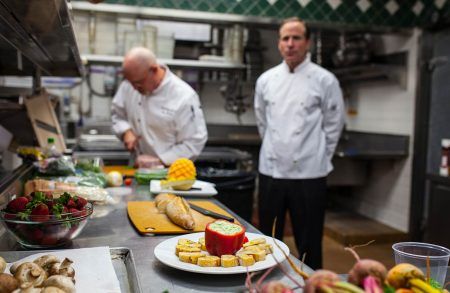 CASA, the Chef Apprentice School of the Arts is anything but your ordinary culinary school. Our methodology places the right kinds of individuals inside of real, working kitchens and restaurants for direct, hands-on training under the guidance of their mentor, a seasoned chef, pastry chef, or restaurateur, depending on the program of study. In approximately six months, students can gain the skills, experience, and connections they need to launch their careers.
It takes serious drive, a very strong work ethic, and a love of the craft to become a chef. If you have these qualities, this program offers you a comprehensive way to build the skills, practical understanding, and connections you need to take you there. When you train from inside the professional world of cooking, not outside of it in some classroom, you gain much more than a theoretical understanding of the craft and the limited experience of a campus-based kitchen. Learning from within the real world enables you to acquire the real world skills you need to compete in today's job market. The direct oversight, instruction, and feedback you receive from your mentor empowers you to make necessary adjustments as you learn, glean insights and tricks of the trade, and acclimate to all the day-to-day practices of the restaurant industry. The vast majority of graduates from schools costing ten times as much do not get this level of experience.
Because we are an externship-based culinary arts school, all the skills and practices you learn are industry-standard and up to the minute. Our structured gourmet chef
curriculum
, written by a master chef, covers all of the classic French cookery practices you have probably heard of including: all of the mother sauces, moist and dry heat cooking techniques, as well as American cooking techniques, basic butchery, and the everyday industry practices that are so commonly left out of other curriculums. Aspiring pastry chefs can learn the art of pastry in our apprenticeship/externship program which matches driven individuals with highly experienced pastry chefs for firsthand instruction inside of working bakeries.
As the apprentice (extern) to a working chef, lessons are not lectures, they are conversations. There is nothing more time-efficient and straightforward than getting direct, hands-on instruction from a master of the craft. If you have questions or fissures in your understanding of something, all you have to do is ask. Your mentor will explain things to you in a way that makes sense. Even the chemistry of cooking becomes far more intelligible when you have a professional who can break it down for you in an accessible manner.
Another major advantage of the CASA approach to culinary education is the relationship-building opportunities it affords its students. Having the right connections is how most culinary professionals get work. In fact, the vast majority of jobs in professional kitchens are filled via word of mouth, not by job listings. Because most positions are filled well before an ad is even placed, getting your face and name known to those in the know is of paramount importance.
At CASA we pride ourselves on being a more effective, affordable, and practice-oriented culinary arts school. If you are serious about getting your start within the professional world of cooking, pastry arts, or becoming a restaurateur, we welcome your application.
It costs nothing to apply to our culinary school. Fill out our application form and in just a few days you can be well on your way to building a career that's really hot!