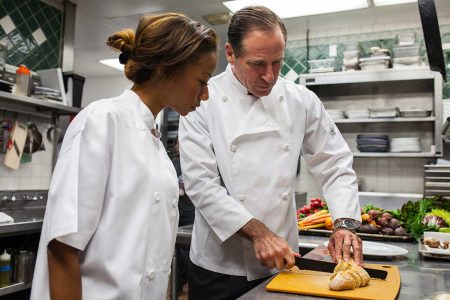 The CASA gourmet chef curriculum, including artisan baking lessons, is specifically designed to enable our students to build the practical skillsets and know-how it takes to prepare them for entry into the craft of artisanal baking. Prior to beginning their apprenticeship, students meet with their potential mentor to talk about their career goals and familiarity with the age-old tradition of baking. Whether they have spent years baking bread on their own or are passionate newcomers to the craft, the flexibility of our program makes it possible for the mentor to customize the lesson plans to suit the needs of the apprentice.
This is all possible thanks to our unique method of placing individuals in real, professional kitchens and bakeries for one-on-one instruction with an experienced master baker. This externship or mentor-apprentice model of culinary arts education is not typical in the United States of today, but prior to the advent of the modern-day cooking and baking schools, apprenticing under a skilled baker, often for several years, was how aspiring bakers came to master the craft. Once they had completed their apprenticeships, they then moved on to set up shop in another town or area. This same tradition is still alive and well in many parts of the world, especially throughout Europe. At CASA, we use the same basic approach of matching a dedicated aspirant with a baker who has years of experience. We then provide a structured, holistic curriculum that is created to maximize learning, retention and breadth of knowledge, and engender curiosity and originality.
When you enroll in our culinary school, the baker you apprentice with will be a professional with a high level of expertise in artisan bread making. Training elbow-to-elbow with someone who actively earns their living baking is simply the most effective and efficient way to build great skills in a matter of months, not years. In most cases, lesson days and times are flexible, making it possible for many working adults to get the training they need while keeping their current jobs. Of course, apprenticeship is not for everyone. But if you are an individual who is not afraid of hard work (and baking is such a profession) and who is committed to learning the real ins and outs of high quality artisan baking and bread making, this may be the program for you.
Because apprentices train within the real world of artisan baking, they also have the opportunity of building solid connections with the very same professionals who are actively working in the craft. The culinary arts world is largely connection-based. While other professions have taken to the internet to recruit new hires, in the food world, phone calls and emails to friends of friends are still the way people get work.
Coursework is delivered via distance education and completed at a location determined by the student. Externship apprenticeship locations may be up to 60 miles away from the student's address. The externship apprenticeship mentor will work with each student on structuring a specific schedule. The student agrees that he/she/they will be available to meet with the mentor for a minimum of two sessions per week.