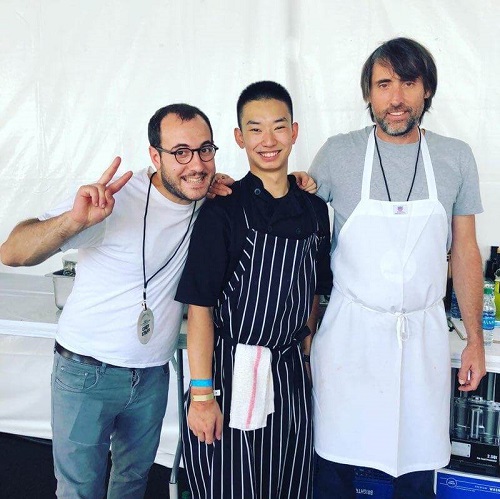 Their Story
Recent CASA Schools Gourmet Chef program graduate Justin Zhao (San Francisco, CA) had spent two years completing his Associate of Arts degree in college with plans on pursuing a degree in Business when he realized he just wasn't at all excited about his career path. After some serious soul searching, he came back to food. His parents owned and ran a restaurant which served what he calls "Americanized Chinese cuisine" so food had always been a mainstay in his life. But Justin's interests had less to do with following in his parents' footsteps than those of his culinary heroes, Tim Hollingsworth and Gordon Ramsay.
 
We caught up with Justin to talk about his experience in CASA and a recent opportunity that came his way thanks to our staff in Career Services. Although Career Services presented the opportunity for Justin to volunteer to work the Lexus All-Star Chef Classic in Los Angeles, it was Justin who said yes and brought his A game to the 3-day event, which resulted in more than one job offer, including one from someone he's looked up to for years.
 
What brought you to CASA in the first place?
 
"I was looking at other culinary schools around California, etc. I saw the CIA in Napa and that was really expensive…It was a little bit too expensive and it was going to be kind of going back into the college realm, which I was trying to stay away from. I wanted to be more hands-on. So CASA was like, 'This is really great, this is really what I wanted to do.'"
 
You were matched with Jeremy Blaringhem, Executive Chef/Owner of Bouche in San Francisco. Can you tell us about your first meeting with Jeremy, when you went in to interview?
 
"Oh my goodness. It feels like it was so very long ago, but it wasn't…I remember going in, I was super nervous, wasn't sure what to expect. I walked into his restaurant, and then we had an interview. Basically we just went over my story, where I come from, my basic bio, background, what I wanted to do,…what my goal was. And I asked him, 'What do you expect from me as a student coming in?' He said, 'From the beginning, I don't expect anything. You're here to learn.'… So that gave me a little sense of relief. I wasn't like jumping in and doing everything. That's what I was worried about at first, but he made sure that it was going to be okay."
 
So if we contrast Justin before CASA and then you today, what can you tell us about what you've learned and how you've improved over the past year?
 
"I think pretty much everything, to be honest. You know, my confidence level, my knife skills, my drive, and, even more⁠—my passion for food….Before this program started, I didn't know where I would be, where I would belong. I didn't know what I could do….I didn't have any knowledge or any real skills in the kitchen, even growing up with my parents' restaurant, they wouldn't really allow me in the kitchen. They would always have me in front of house and stuff like that…
 
I wasn't sure if my skills would be enough. But afterwards now, growing and learning on the line, just doing all the certain things that I've done already, it certainly has improved my confidence. It validates that this is really what I want to do. This is what I love."
 
So give us the lowdown on doing this year's Lexus All-Star Chef Classic in Los Angeles, including the job offers.
 
"So the first one was from Chef Holly Jivin at The Bazaar by José Andrés, she's the executive chef at Bazaar. So we were doing her course for the Spanish Masters on the third night. Basically, we were on the line plating….Midway through it, she was right next to me, and she was just like, 'All right, guys. Double time it,' and then we were just going at this super-fast pace, plating and getting everything done. Towards the end, she was like, 'Are you with Wolfgang Puck or are you volunteering?' And I was like, 'I'm volunteering.' She was like, 'Well, do you need a job?' And I told her, 'I'm from SF unfortunately, but I would have loved to take your offer.'
 
That's one. How about the other two?
 
"Then my second one was with Chef Tim Hollingsworth, which is someone who I've looked up to because he worked his way up from being a dishwasher at 18 [with] no culinary school experience, no college experience, and then three years later ending up at the French Laundry, and being there for 13 years, and being the executive chef for four years. I was like, 'This guy is the real deal.'
 
[So] I requested to the coordinator, Stevie…'Hey, Stevie, am I going to work with Chef Tim Hollingsworth? Can I be his volunteer?' She was like, 'Yeah, sure, you can do whatever you want.' I was like, 'Perfect!' So I was able to be paired up with him.
 
When I went to his tent that day, all his sous chefs, his team, were there, but he wasn't there yet. So, I introduced myself and asked if they needed help. And they were like, 'No, we don't really need help.' And I was like, 'Oh man, that sucks.' So I was kind of heartbroken at first. I was like, 'Oh no, what am I going to do?….So I kind of just lingered, being a little bit more persistent, just hanging around like, 'All right, if you guys need anything, I'll be right here.' They're like, 'Okay.' And then afterwards they were like, 'Yeah, you can grab us some ice?'
 
So I went down the street, grabbed a 40 pound bag of ice for them, and put their stuff on ice. Then afterwards, they left for a little bit, and then came back right before the event started. I offered them water and stuff like that, and I grabbed them drinks and showed them around the place and where to grab stuff. Then afterwards, when dinner service started, they asked me to jump on the line for them…and then the chef arrived 30 minutes later, after the event started, and it was awesome. It was a surreal moment to be right next to him, working for him….Then the day was over and they asked me where I was working. I was like, 'I work at a very small French place in SF.' And he said, 'Oh, well we're opening in SF, in Union Square during New Year's.' And I was like, 'Oh, really?' And they're like, 'Yeah, we'd like to hire you if you're interested.'"
 
And you had one more job offer, correct?
 
"So basically Wolfgang Puck Catering Services provides staff, chefs, and equipment and stuff like that for this event. They've seen me run around and do all this stuff. On the last day, one of the supervisors offered me a job as well. She was like, 'Justin, do you want a job?'"
 
That's great. What's your advice for CASA students on how they can make the most of their training?
 
"Put yourself out there. Don't be shy. And ask questions, for sure. Just be able to talk and communicate with your chefs and your team that you work with, and just always practice at home as well. Keep learning. There are so many things to learn. I'm sure in 30 years from now I'll still be learning."
 
Learn more about CASA Schools' Gourmet Chef Program.