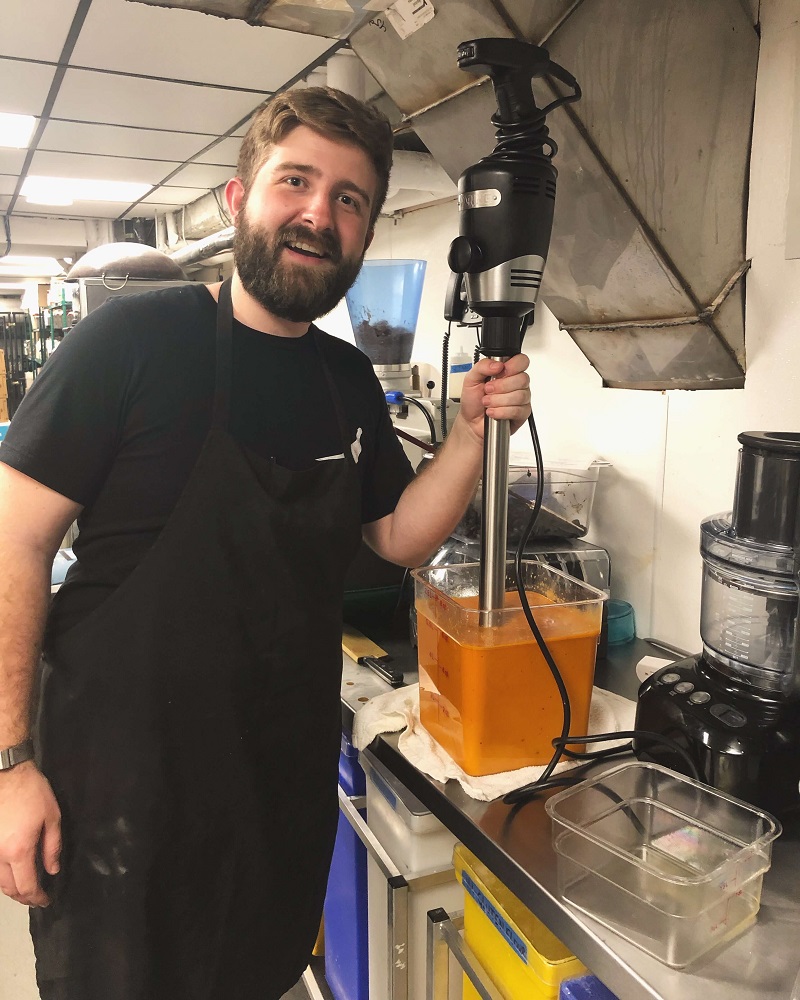 Their Story
After years working as a key member of an internal producing team for Scripps Network where he worked on content for HGTV and Travel Channel, Cody Woodside found himself merged out of a job when Scripps was acquired by The Discovery Channel. Rather than seek something else in production, Cody saw the forced hiatus as an opportunity to delve into the culinary arts in the CASA Schools Gourmet Chef program.
 
We connected with Cody to talk about his journey into the culinary arts and where it's leading him today and in years to come.
 
Were you completely blindsided when you found yourself out of a job at Scripps?
 
"Honestly I think it was a blessing in disguise….As mergers and acquisitions go, some roles are eliminated in that process…My team [at Scripps] was eliminated from the structure at that point, and I had some free time on my hands after that. I noticed that I wasn't necessarily very sad about that decision being made for me, because I think I wanted to switch things up a bit for some time…Through that soul searching I realized I was cooking and baking a lot, as sort of a stress-release method. From that, I decided to start looking into culinary programs and settled upon CASA because the whole externship idea, the hands-on [approach] really drew me in."
 
So you called CASA and we sent you to interview with Chef Kristin Beringson at The Green Pheasant. How did that initial meeting go?
 
"I had stalked her online beforehand and learned that she was actually on an episode of Chopped and that she won her episode. So that added to the pressure that I wanted her to want to work with me, especially if it's going to be the next six to eight months of my life. You know?…
 
So I was nervous going into it, but as soon as I walked into the restaurant, the atmosphere alone was enough to disarm me and calm me down. Then once Kristin walked out in her black shirt and black yoga pants, just all cool, calm, and collected, it really removed all tension. We just hit it off from that first meeting, and within 20 minutes we had decided when I could start and what my schedule would look like, and moved on from there."
 
During the early days of your externship what kinds of skills did you learn?
 
"So I spent some time up in prep, and that's where I really dove into knife skills and techniques….They do this appetizer called Dan Dan Wings where they debone a chicken wing, which sounds ridiculous
 
As you can imagine, deboning a chicken wing is really hard. It's technical and your knives are sharp, and it's a small workspace that you're in. So that was one of the first major technique tasks that I had. And then from there we kind of moved into different types of cuts and slices and dices and all that jazz, and I learned quickly that I was afraid of my knife. So Kristin encouraged me to just figure out a rhythm and go slowly at first and slowly work up my speed until I felt comfortable. And by the end of the second week I would say I was chopping pretty proficiently and feeling really safe behind my sharp ol' knife."
 
Over the course of your externship, have you seen your culinary skills improve?
 
"Probably two to three months in I really felt like I was growing as a chef, and I could tell because one of my Instagram food friends… just got a cookbook deal and had me as an assistant to help test and develop recipes, then…come out for the shoot.
 
So that happened during the first week of my externship. I split my time for a couple weeks helping her with development and testing.
 
Then when I went back a couple months later, for the shooting of the cookbook…she referenced that I was vastly different in the kitchen and that my comfortability and my ability to do multiple tasks at the same time had really grown since we had developed recipes a couple months prior. So I know that was all due to time…in the kitchen there with Kristin."
 
Your parents also got the benefit of witnessing your growth.
 
"So I was born and raised in Nashville and went to Knoxville, Tennessee for school and stayed there at Scripps…When I decided to move back to Nashville for my CASA externship…I crashed with my parents for that time, and they actually were like, 'If you want to just cook us some meals a few times a week, don't worry about any rent.'
 
So whatever I was working on at the Pheasant that week I would bring that home….They were definitely eating a lot better when I was there. I think they're getting a lot more takeout now that I'm gone.
They even commented that I seem to really have 'found my thing.'…I was a lot more calm and I felt like I was a lot happier when I was cooking a lot. So I think that my parents appreciated that and saw the positive impact that I was getting from being able to learn something that I've been passionate about on an amateur level for so long, and [it] then being able to have larger takeaways."
 
How was Chef Beringson as a mentor?
 
"Kristin was a fantastic mentor. I still text her when I forget how to make ricotta at home. She sends me the recipe. It's really easy. We've built a really great rapport in that I think she could tell I was really ambitious because I wanted to finish my program in six months or less just because I had a plan. I wanted to be done in Nashville in six months and then come back and figure out some sort of food job in Knoxville. So she really worked with me."
 
That leads us to ask about your new job and what you're doing now that you've moved back to Knoxville.
 
"I got hired at Discovery. They're doing a joint venture with Chip and Joanna Gaines from Fixer Upper. They are launching a network in 2020, and I've joined the development and programing team here. So I'm working with our programing executives here to make sure we've got fun, innovative content, making sure we're hearing all the pitches from the production companies, and figuring out what we want to air when it's time to launch. And that does include food shows as well. So I'm getting to use a little of my culinary expertise here and there, too."
 
So let's flash forward five years from now. What do you see yourself doing?
 
"Ideally, I would love to find a way to marry my food experience with my TV experience. So I'm really trying to shape my current path into working on food content. That would be overseeing shows, being a culinary producer for shows, making sure recipes make sense for viewers, making sure there's innovative, fun content, shedding light on new cuisines, too.
 
That was another great thing from the Pheasant, is that I really, I mean I've always grown up eating Chinese food, blanket term there, but I really had no experience with Japanese cuisine, let alone fusion. So that really put me out of my comfort zone, and now there are things in my fridge that I hadn't even heard of a year ago. So I would love to be able to do that for other people, too, through the content that I'm producing and seeing."
 
What's your advice to current and future CASA students on how they can make the most of the program while they're in it?
 
"I would say one of the most important things would be connecting with your mentor and being up front with them about what you want out of the experience.That's something that Kristin asked me early on is, 'Are you trying to leave this program and cook on a line somewhere? Or are you trying to get back into TV?'…. And once I did that, she was able to shape the curriculum with me and guide me further that way. So, just really being upfront with your mentor, about your desires and what you want to obtain from the program is probably the best way to make sure you get what you want. The squeaky wheel gets the oil, right?"
 
Learn more about CASA Schools' Gourmet Chef Program.