If you're on the West Coast, you're probably wondering "Is it fall yet?" Alas, the 90-degree temperatures we're having in L.A. along with the drought and high-humidity feels nothing like fall. Don't talk to me about pot roast or chicken pot pie! It's just too warm out! So what is one to eat?
Well, how about dishes that do a great job of transitioning from summer to fall? Root vegetables are a great way to do this. So let's celebrate with the most famous root vegetable of all–the beet.
Sweet, savory, slightly spicy and with layers of flavor, this gorgeous salad pairs perfectly with roast chicken, white fish, and can even serve as a nice prelude to pork chops.
Marinated Roasted Beet and Pistachio Salad
SERVINGS: 6
1 pound yellow or red beets, preferably smaller and on stem
1 medium shallot, roasted
1/4 cup pistachios, (raw or roasted)
4 tablespoons red wine vinegar, divided
4 tablespoons olive oil
2 tablespoons Bragg's vinegar
1 Bosc pear, ripe but firm
1 bunch green onions, washed, trimmed and pulled into strips lengthwise
2 Naval oranges (one for juice, one for serving)
3 ounces bleu cheese, crumbled or whole
Sugar, if necessary
6 tablespoons honey
Dash red chili pepper
Kosher salt (to taste)
Preparation:
Preheat oven to 425°.Rinse and scrub beets to remove dirt. Twist off the beet tops but retain the nub and the root. Pat dry. The reason we're keeping the beets somewhat whole like this is to lock in their juices. Pat beets dry. Place in a baking dish and add 2 tablespoons Bragg's, 2 tablespoons red wine vinegar, 2 tablespoons olive oil, and 1/4 cup water. Season with salt. Cover with foil and steam until beets are tender, approximately 40–50 minutes. Reserve pan juices for sauce.
Let cool slightly. Rub off beet skins with paper towels or a clean dish cloth. For presentation, you may want to keep the roots attached to the beets wherever possible. A few will fall off during the cooking process, others will fall off when you remove the skin. For the remaining beets with roots, slice out sections of the beets and root to use as centerpieces for your salad. Reserve these on a plate (it's fine to just season them with salt and refrigerate). Slice the remaining beets into quarters and add a bit of salt and sugar if desired (you may want sugar if the beets aren't naturally sweet. Usually I find sugar is not necessary). Stir well. Allow to come to room temperature. This will enable the beets to absorb the salt and sugar. Next, add 2 tablespoons olive oil and 2 tablespoons olive oil. Toss well and refrigerate.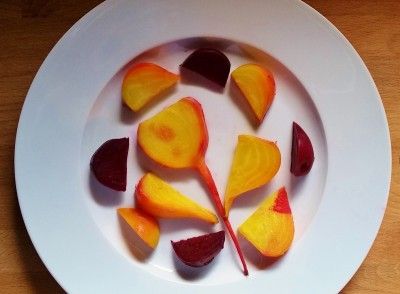 For the dressing:
Pour the juices from the pan into a small saucepan. Add chili pepper and roasted shallot, smash well to ensure it combines. Reduce for about 10 minutes, stirring frequently. When liquid has reduced by about 50% add in honey. Stir continuously. Reduce for an additional 5 minutes or until liquid reaches a syrup consistency. Allow to cool. Once cool, pulverize in a blender or bullet for a few seconds for a lovely, dark dressing.
To assemble:
Rinse and pat dry the green onions. Split them Korean-style i.e. lengthwise. Just trimming off the tops and bottoms and then using a paring knife to peel the green onion in half is an easy way to do it. Slice pears and one orange into segments. Add the juice of an orange to the beets, to taste. Assemble on plate around beet centerpieces. Drizzle with dressing. Top with crushed pistachios and crumbles of blue cheese.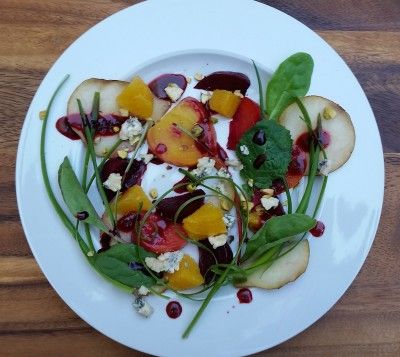 Enjoy!
Until next time…
Happy Eating!